Posted: November 26, 2019
By Dr. Thomas J. Kaiser
Associate Dean, Thomas Aquinas College
Remarks at the New England Thanksgiving Dinner
November 23, 2019
Thank you, Mr. Gardner, for reading George Washington's Thanksgiving Proclamation. I am struck by a few details:
First, I find it hard to imagine that today both Houses of Congress would have the resolve to recommend a national day of public prayer and thanksgiving. In this post-Christian era, the country has become so divided, and there are many attempts now to prevent any public display of religion. So I am gratified to hear Washington say, "It is the duty of all nations to acknowledge the providence of Almighty God, to obey His will, to be grateful for His benefits, and humbly to implore His protection and favor." It seems to me that Washington knows what the nature of a nation is and what our obligations are.
I am also struck by some nice parallels between what Washington has to say about the founding of our nation and what we can say about the founding of this new campus.
Washington expresses his gratitude for the "manifold mercies" and "favorable interpositions" of God's providence over the course of in the conclusion of the Revolutionary War. We can express our gratitude for the providential founding of this new campus. It was not something we were looking for when the opportunity presented itself, but given the manner in which things worked out, it was clear that God, in His Providence, wanted us here.
Washington thanks God for the "great degree of tranquility, union, and plenty" which the country had enjoyed since the conclusion of the war. We express our gratitude for the enjoyment of tranquility, union, and plenty, which we have enjoyed since our arrival on this campus.
Washington thanks God for the peaceable and rational manner in which they have established a new constitution. We are grateful for the prudent manner in which those who govern and support Thomas Aquinas College have established this new campus.
Washington thanks God that the newly founded nation is ordered to the safety and happiness of the people and particularly for their civil and religious liberty. We thank God that we have the freedom to establish this campus and to conduct ourselves according to the teachings of our Catholic faith. This freedom is becoming more and more tenuous, and the maintenance of this freedom is something that we must continue to pray for.
Washington thanks God for the means this country has for acquiring and diffusing knowledge. We thank God for having the ability to pursue a truly Catholic liberal education here on this campus and to share these truths with others.
Washington concludes by asking God to bless the country with "good government, peace, and concord … to promote the knowledge and practice of true religion and virtue," and to increase science among us, and "generally to grant unto all mankind such a degree of temporal prosperity as He alone knows to be best." We ask the same blessings for the College, for the country, and for all nations.
As love of God redounds to love of neighbor,  so does our gratitude to God redound to those God uses as instruments for bestowing His blessings on us. So we are grateful:
… first to the local people who prayed for years for the presence of our College on this campus.
… to the National Christian Foundation for donating this beautiful campus.
… to our Board of Governors and the benefactors who have made our presence possible.
… to Steve and Julia Wiggin, who from the beginning have become our friends, and, particularly, to Steve who has overseen all the work that has been and needs to be done for our use of this campus.
… to the first settlers our new campus, Patrick Cross, Andrea McCann, and John Jost, for all the work they have done to get this program started.
… to Jim Link for his devotion to the College and for finding many new friends and benefactors for us.
… to all the contractors, plumbers, electricians, roofers, floor layers, painters, carpenters, and maintenance workers who have helped refurbish this campus.
… to Nathan Borchers for his supervision of the student workers. I was doing this before Nathan came on board. He is doing a great job and his presence here has made it possible for me to do my proper work.
… to the students who worked here this summer getting the campus ready.
… to our beloved chaplain, Fr. Markey, who has not only provided us with daily Mass, wonderful homilies, spiritual direction, and other devotions, but he has also helped furnish the Chapel with the beautiful things necessary for the sacraments and has been a guiding light in the redesign of the Chapel.
… to Mr. Gardner for his work as assistant dean. He has been a great help to me and is truly devoted to the good of the students.
… to the tutors for their devotion to the teaching and welfare of the students, and to their families for the sacrifices they have made to take part in this adventure. I can't imagine a better group for founding this campus.
… to Dr. Worden, Dr. Cross, and our beloved nurse, Nancy Faller, for providing health services to our students.
… to the Resident Directors for their leadership and devotion to the students and to the welfare of the College.
… to Todd, Thomas, Gisela, and Kathleen for their great work in the kitchen.
… to Stephen and Laura Grimm for helping to provide us with the beauty of music.
… last, but not least, we are grateful to you students for having the courage and generosity to help us found this new campus. Thank you for your hard work and for your leadership. All the preparation, work, and fundraising that have been done would be for naught if you did not come. We could not ask for a better group of students. Your devotion to the program and to the College will be a benefit not only to you, but also to the students who will follow in your footsteps. We are truly proud of you.
May God bless all of you and may you have a Happy Thanksgiving.
Streaming / downloadable audio:
---
Receive lectures and talks via podcast!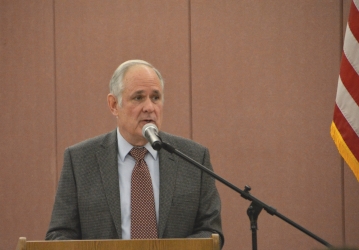 "The education at Thomas Aquinas College makes men free, able to direct their own lives, and that of the community."
– Laura Berquist ('75)
Founding Director of Mother of Divine Grace School; Author, Designing Your Own Classical Curriculum
"I am happy with the mission of Thomas Aquinas College and with the results spread through various countries in the world!"
– Most Rev. Lionginas Virbalas
Metropolitan Archbishop of Kaunas, Lithuania
CALENDAR
NEWS FROM THE COLLEGE