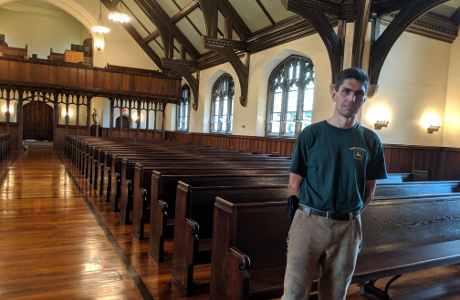 George Krestyn ('03)
The inaugural year of Thomas Aquinas College, New England, will begin on Saturday morning when the Most Rev. Mitchell T. Rozanski, Bishop of Springfield, offers the Convocation Mass of the Holy Spirit in Our Mother of Perpetual Help Chapel. The Mass and matriculation ceremony follow the culmination of years of effort on the part of many to launch the new campus — including one alumnus woodworker, who for months has labored to prepare the century-old chapel for Catholic worship: George Krestyn ('03).
"The biggest part of the project was to take the existing pews and modify them because there was no center aisle," observes Mr. Krestyn, describing how a central walkway is required for Catholic liturgy, so as to accommodate processions. "Fortunately there were enough long pews that we could cut and modify, giving us two sections of pews with a center aisle."
The work, however, didn't end there. The pews had been covered in long-since dilapidated cushions, which, when removed, revealed the pews' beautiful finish — but also left them two inches short. "We made and then installed 'feet' for all of the pews," Mr. Krestyn explains, "and that raised them each a couple of inches."
Then there was the floor. "The center section of pews originally had iron supports," Mr. Krestyn notes. "But because the floor was not completely flat or even, the pews would rock. So the carpenters, when they installed the pews, embedded the iron supports into the wood floor. Now that we have a center aisle, these holes were visible. So the architects suggested putting an inlay in there. We cut away the spots where the holes were and put a new piece of wood in their place. Then we installed a new inlay close to flush, and sanded it down to make the floor level."
The woodworker and his crew, including two of his uncles, have worked on the project since May, finishing in time for the kneelers to be installed prior to Saturday's Convocation. But more projects lie ahead. "I will be helping with installing the Communion rail and the two confessionals," he says. "Plus there may be a little work in the choir loft," which requires some reconfiguration following the installation of a new organ.
Mr. Krestyn and his wife, Monique (Chartier), have lived in nearby Templeton, Massachusetts, ever since their  wedding, just months after their graduation from Thomas Aquinas College, California, in 2003. Sixteen years later, they are now expecting their ninth child.
Over the years Mr. Krestyn has held various positions in the remodeling and custom-furniture industries before going into business for himself in 2018. Although he has participated in similar projects, helping to prepare Our Mother of Perpetual Help Chapel, he finds, is different. "It's exciting," he says. "Working on a chapel, that's wonderful. And working for my alma mater, that's very special."