Updated: November 12, 2019
"It has been very heartening to see how many people have been willing to sacrifice for the good of Thomas Aquinas College, for our students, and for the spiritual life of our new campus," says Rev. Greg Markey. "We are grateful to God, to all who have given, and to all who are still giving."
On All Saints Day, Fr. Markey sent an email to the College's alumni, friends, and benefactors, asking for their help to make the century-old chapel on the New England campus a fitting home for Catholic worship. Although an anonymous benefactor has paid for the major renovations of the building — including installation of an altar and confessionals — Our Mother of Perpetual Help Chapel still lacks many basic liturgical items.
"Some of these items simply fill important practical roles for the celebration of the sacraments, such as the linens used during Holy Mass," wrote Fr. Markey, chaplain on the newly opened campus. "Others provide an ornamental beauty and dignity to the liturgy, such as the sacred vessels and vestments worn by the priest. All of these items are for the greater glory of God."
Fr. Markey's letter included a link to a registry of sacred items still needed for the chapel. Within minutes, gifts started coming in from across the United States — gifts of communion patens, Stations of the Cross, ciboria, and more. The total value of the items purchased so far exceeds $80,000.
"The support we have experienced has been inspiring," says President Michael F. McLean. "These are costly items, often handmade and from the finest materials. And yet our friends and alumni, out of their great love for reverent liturgy and for our students, have made sacrificial donations to help make Our Mother of Perpetual Help Chapel a worthy home for our Eucharistic Lord."
Despite the outpouring of generosity, several items on Fr. Markey's wish list — such as vestments, holy water fonts, Nativity figurines, and altar veils — still remain. "We are hopeful that, by God's grace and through the continued generosity of many, the registry will be empty by the end of the month, and that the Chapel will be furnished for generations to come," says Fr. Markey.
"November, the month of Holy Souls, provides a wonderful opportunity to sponsor items in memory of loved ones," the chaplain continues. "Their names can be engraved on many of the items, and will be listed in a book that will be permanently displayed in the vestibule of Our Mother of Perpetual Help Chapel."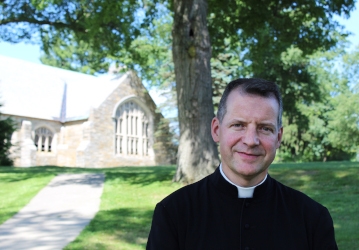 New England Chaplain Rev. Greg Markey and
Our Mother of Pereptual Help Chapel
"Here I am surrounded by other people my age who share my interests, who value their education as much as I do, and whom I can have fun with while still learning about big ideas. It is an awesome experience that I have never found anywhere else."
– Patrick Nazeck ('19)
Ridgecrest, California
"I am full of admiration for what the College, its founders, its leadership, its faculty and staff, and its students and alumni have achieved."
– George Cardinal Pell
Archbishop of Sydney