Posted: July 9, 2019
Thank you all for joining us on this occasion.
I want to especially thank Rev. Bartholomew de la Torre, O.P., one of our beloved former College chaplains, for making the trip all the way from Mexicali, Mexico, where he serves the Santa Maria de Guadalupe Parish community. So, Father, God bless you and thank you for joining us.
And I want to thank Aaron Dunkel and all those who helped organize the alumni reunion weekend and tonight's dinner.
Reunion Classes
One sign of how well this event is organized is that we have six reunion classes with us this year:
The Class of 2014, celebrating their 5th reunion: Yours was the year we lost our beloved Dr. McArthur, may his soul rest in peace. But it was also the year we won our first legal victory in our fight over the HHS Contraceptive Mandate. Your class speaker was Felicity Seeley, and at your Commencement she said, "It takes true love of neighbor, true love of Truth, to bring a stranger into our world, to show him the Truth, to help him desire that goodness and order as we do. God will give us courage and aid." God Bless you, Felicity, and God bless the Class of 2014.
The Class of 2009, celebrating their 10th reunion: Yours was the year we finished constructing Our Lady of the Most Holy Trinity Chapel, but is also the year we tragically lost our friend and leader, Tom Dillon. May Tom rest in peace. Your class speaker was Simon Noster, and at your Commencement he said, "Let us embrace the task ahead of us and serve our fellow man with all the gifts that have been given to us." God Bless you, Simon, and God bless the Class of 2009.
The Class of 2004, celebrating their 15th reunion: Yours was the year we built our last residence hall, St. Monica's, and the year we finalized our plans for Our Lady of the Most Holy Trinity Chapel. Your class speaker was Brendan Wicke, and at your Commencement he said, "We are called to a supernatural courage … to attain the courage which is Christ's, to become true warriors as Christ was — not pagan warriors, for we are Christ's soldiers." God Bless you, Brendan, and God bless the Class of 2004.
The Class of 1999, celebrating their 20th reunion: It was on the occasion of your graduation that Pope John Paul II said, "I know Thomas Aquinas College." He told your Commencement Speaker, Jan Cardinal Schotte, "You have to bring the graduates Rosaries from me!" And so he did, Rosaries direct from John Paul II. Your class speaker was John Finley, who told you, "This day marks as much a beginning as it does an end, and what we have learned in the past is but a preparation and foundation for what is to come." God Bless you, John, and God bless the Class of 1999.
The Class of 1994, celebrating their 25th reunion: This was the year construction was started on St. Bernardine of Siena Library and we received the 17th century carved Spanish ceiling, still packed in the original crates bearing the initials of William Randolph Hearst — a treasured gift from Mr. and Mrs. William P. Clark. Your class speaker was Alan Walshe, now Rev. Sebastian Walshe, O.Praem., who told you, "Here, at Thomas Aquinas College, we seek the common good with the help and perfection of the sacraments. Here, too, we are truly free, for our freedom consists not in doing what we want to do, but in wanting to do as we ought." God Bless you, Fr. Sebastian, and God bless the Class of 1994.
The Class of 1979, celebrating their 40th reunion: This was the year of heavy rains, mud, cardboard walkways, and the hot dog and cotton-candy cart masquerading as a kitchen. Your class speaker, Sean Collins, related to you, "The time spent at the College has enabled us to obtain some faint glimpse of that toward which all men strive, and that without which all is in vain. Here we have received the assurance that reason lies behind all that exists, and the hope and strength that follows upon that assurance. … And so now we shall take our places in the world and strive with all of our efforts to carry out the will of God." God Bless you, Sean, and God bless the Class of 1979.
Now it just so happens that, in the fall of 1978, Richard Ferrier and I joined the faculty of Thomas Aquinas College, both of us fresh out of graduate school, and I have a couple of reminiscences of that occasion. Those of you who were here then remember that we taught our first classes in the Hacienda, and I have a vivid recollection of Ferrier teaching a math class using a child's slate backboard that he bought at Kmart — with the alphabet letters around the perimeter — and there's Ferrier sitting in the living room of the Hacienda showing Cartesian equations on the blackboard. Richard is such a great teacher that he had everyone enraptured by his class and by that little slate blackboard. But that gives you a kind of sense of the facilities here and the kind of equipment we had when we first started.
I happen to have interviewed at the old campus in Calabasas as part of the vetting process for becoming a tutor, and I took the opportunity to bring my parents up to this location. They were living in Garden Grove at the time in Orange County, and at the time I brought them here, there was nothing; this was just an empty field. There might have been 10-12 head of cattle wandering around. I told my mother, "This is where I hope to teach." And she said, "I've always known it was a mistake to major in philosophy! Why did you waste your time doing that?" But I said, "Dr. McArthur promised me this campus will be completely built out in five years." Well, here we are almost 50 years later, and it is almost built out at this point.
It has indeed been a great blessing for me to be on this faculty and to see the College grow and to have gotten to know so many of you over the years.
Alumni Support
Recalling some of the words spoken at these particular graduations, which I cited a few minutes ago, confirms my own impressions gathered from my experiences as president of the College over the last nine years. I can say of all of you that your education at the College has borne fruit in your family lives, in your professional and personal lives, and in your spiritual lives — lives of commitment and service to the common good, to the Church, and to your alma mater. And we who are blessed to work at the College are proud of every one of you for the witness you bear to Christ in the world and to the witness you bear to Thomas Aquinas College. So thank you all for that; thank you for everything you do.
One sign of that commitment: Total alumni giving is projected to reach more than $260,000 in the just-completed fiscal year. So that is great, and we are so grateful for your support and for your commitment to the school.
Now, a significant portion of that came on one day, the Alumni Day of Giving. By day's end on March 7 of this year, alumni gifts totaled $57,233 — more than double last year's contributions. Combined with two matching gifts, that amounted to $93,243 in all — a 38 percent increase from 2018, and enough to cover the financial aid need of some seven current students for a year. Close to 500 of our alumni responded generously and sacrificially, with an average gift of nearly $200. That was all on one day — so we are very grateful for  that show of generosity and support.
Alumni commitment to the College is measured not only by giving. Many of you are serving the College through our Boards of Regents, in places such as Washington, D.C., where the Board has organized several magnificent events for the College over the last four to five years, events which have been well-attended, drawing anywhere from 100-300 people, at places like the Apostolic Nunciature, with speakers such as Cardinal Burke. So we are grateful to the Washington, D.C., Regents for their efforts.
The New York Regents just organized a reception in Bronxville, in Upper Manhattan, and it was a great opportunity for us to promote the New England campus and to introduce the College to more people.
The Chicago Board of Regents recently sponsored a boat cruise and dinner on the Chicago River. We had 100 people at that event, and they've showed great commitment to the school as well.
Southern California Regents — We've had several wine tastings here on campus which have proven to be great occasions for introducing the College to new friends. And we have a chapter of regents, consisting mostly of alumni, in the Bay Area and Sacramento, and they've done three or four seminars over the last several years. So that kind of commitment of time to the College is very, very helpful to us and really does inspire us to continue our work to advance the school.
Career Counseling is another way in which alumni have been very, very helpful to us. In recent years, through the good efforts of Mark Kretschmer and now Scott Benigar, we have increased our efforts to assist our students with the transition from college life to post-college life. Many of you have assisted with this effort by participating in career workshops and helping our students with networking. So we are very, very grateful for that.
Nearing the 50th
Now, thinking back over these years of the College's history is a reminder that the College in California is nearing its 50th anniversary,  a milestone in the history of any organization. It has been nearly 50 years of commitment to and implementation of our mission of Catholic liberal education as articulated in the Blue Book: a well-conceived and coherent Catholic curriculum utilizing the greatest books of our civilization, books which challenge our intellects and move our hearts, and a pedagogy of discussion, which actively engages students in their education, improving their analytical skills, their reading skills, and their ability to carry on serious conversations in a cooperative and charitable way.
We have had early 50 years of generosity from many benefactors, resulting in the campus you see around you and at its near-completion. The master plan will culminate in the building of our athletic center, with construction to start this fall. It's fully funded. Unfortunately none of you all will benefit from this, but there will be a gym, a tennis pool, a climbing wall, new tennis courts, and new basketball courts. So hopefully some of your children will enjoy these facilities.
Finally, and I think most importantly, we have nearly 50 years of sending out well-educated alumni to raise wonderful families to serve your communities, our country, and the Church.
Now, encouraged by nearly 50 years of success in California, we look east to establish a second campus of Thomas Aquinas College committed to the same mission as our California campus. We are grateful to the National Christian Foundation and to other donors whose generosity has made this project possible, and who will ensure its success as we go  forward.
In addition to being grateful to our donors, we are grateful to the faculty team, who, as we speak, are headed to New England, led by alumni Tom and Paula Kaiser and including other alumni Mike Augros, Joe and Helene Froula, and Paul and Mary Shields. We are also sending some excellent non-alumni tutors such as Patrick Gardner, Margaret Hughes, and Stephen Shivone, who happens to be married to alumna Mary Ann Hastings. This is an excellent team of faculty who will get that campus started in the right way and who will ensure that the students in New England receive the same education that the students here in California are receiving.
And finally we are grateful to our 60 or so sophomores and freshmen who will matriculate in New England on August 24. An energetic crew of student workers is preparing the campus for that day, and we are pleased with the condition and character of the buildings and the stunning beauty of our New England location. If you have not had an opportunity to see that campus, I would encourage you, if you are ever in that area, stop by and enjoy the beauty of that campus — at least in either the spring, summer, or fall!
With the advent of our New England campus, we look forward, over time, to renewing the face of the earth by educating a much larger number of alumni just like yourselves — men and women well-formed in the best of the Catholic intellectual tradition and strong in faith, hope, and charity.
Now, Thomas Aquinas College has much to be grateful for: We should all offer prayers of thanksgiving to God for His generosity and beneficence, and I ask your prayers that the College will thrive over the next 50 years as it has thrived over the nearly 50 years since its founding.
Thank you and God bless you all.
---
Streaming & downloadable audio
---
Receive lectures and talks via podcast!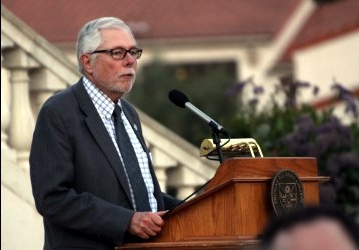 "My time here has really refined the way I think, read, and understand. It has allowed me to think about things more critically and logically."
– Thomas Cavanaugh ('18)
Larkspur, California
"I thank you so much for what you are doing at Thomas Aquinas College. I hope there will always be a Thomas Aquinas College. Your contributions to the Church and the world are marvelous to behold."
– John Cardinal O'Connor (†)
Archbishop of New York
CALENDAR
NEWS FROM THE COLLEGE