Posted: January 25, 2019
On Tuesday the WASC Senior College and University Commission granted its final approval to Thomas Aquinas College's plan to launch a branch campus in Northfield, Massachusetts. With accreditation now secured, Thomas Aquinas College, New England, is one step closer to opening its doors to its first students this fall.
"We have been in the process of extending our California accreditation to New England since October, when we received the approval of the Massachusetts Board of Higher Education to establish the second campus," explains Admissions Director Jon Daly. "Now that we have WASC's approval, we can begin formally admitting the first freshmen to Thomas Aquinas College, New England — the East Coast members of the Class of 2023."
When those new students arrive, they will not be alone. "We have a group of 34 eager freshmen here in California who have signed up to transfer to Massachusetts in the fall for their sophomore year," says Mr. Daly. "They will serve as mentors and guides for the new freshmen and, by God's grace, they will go on to become the first graduating class of the New England campus."
Joining the students will be a team of eight tutors and several administrators who have likewise committed to relocating to the new campus. Plans are also under way to host a High School program in New England this summer, so that rising seniors can experience life on Thomas Aquinas College's New England campus and partake in the College's unique program of Catholic liberal education.
In May 2017 the National Christian Foundation gave the College the beautiful, former campus of a preparatory school in Northfield which had been shuttered since 2005. The historic property, located near the Connecticut River, consists of some 100 acres of land and includes residence halls, a library, a chapel, a gymnasium, and ample classroom and administrative space.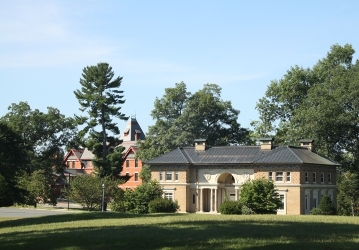 Kenarden Hall
Thomas Aquinas College, New England
NEWS FROM THE COLLEGE