President McLean Salutes
New England-Bound Tutors, Students at Dinner
Posted: December 5, 2018
The pioneers, or settlers, who will launch Thomas Aquinas College's New England campus next year gathered on the California campus Monday night for a celebration of their shared venture.
At a dinner in the Dumb Ox Café, President Michael F. McLean thanked the eight tutors, as well as their spouses, who have agreed to serve as the East Coast's initial teaching faculty. He also saluted some 34 freshmen who have offered to transfer to the branch campus next fall, entering as sophomores what will one day become Thomas Aquinas College, New England's first graduating class.
"Your interest and your presence here tonight are a kind of fulfillment of a dream of mine and of the rest of the faculty who have been working so hard on this project for so long," said Dr. McLean. "Thank you all very much. I am very impressed and pleased with the group we have here."
Having received the approval of the Massachusetts Board of Higher Education, the College is now free to recruit students and accept applications for the New England campus. It will begin admitting freshmen — and transferring sophomores — to Massachusetts pending the approval of its accrediting agency, the WASC Senior College and University Commission, which is anticipated in the near future.
"We have a very strong team of tutors, and under the leadership of Dr. Kaiser, I know that the program will be a success," Dr. McLean told the students. "And with the guidance of the faculty and the chaplain, I know you will succeed in transferring the culture — the intellectual culture, the spiritual culture, the moral culture, and the social life — from California to New England."
Dr. McLean also thanked the many benefactors who have made the New England campus possible, especially the National Christian Foundation, which gifted the property — the former campus of a preparatory school in Northfield, Massachusetts — to Thomas Aquinas College last spring. "We are grateful to our Board of Governors and other benefactors who have shown their willingness to support this project and to help it succeed," he said.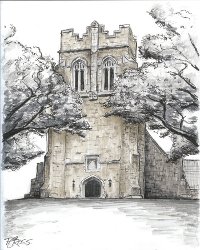 As a token of gratitude, the president gave all those present a framed copy of a sketch of Sage Chapel (right), the beautiful stone building that will become the spiritual heart of the New England campus. The sketch is the handiwork of Patrick Cross ('14), who, in addition to serving as Thomas Aquinas College's New England admissions counselor, is a professional cartoonist. The College expects to renovate Sage Chapel for Catholic worship within the next few months.
"It is a rare opportunity to be given a campus in a location that is so beautiful," said Dr. McLean. "I am increasingly of the opinion that it is God's will that we undertake this effort, and that we will be successful."
"Few schools anywhere can match Thomas Aquinas College's extraordinary blend of deep Catholic faith and rich academic formation."
– The Most Rev. Charles J. Chaput
Archbishop of Philadelphia
CALENDAR
NEWS FROM THE COLLEGE