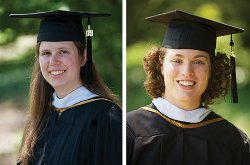 Alison Bright ('09) and Annie Huguelet ('11)
Alison Bright ('09) writes that, having recently earned a master's degree in sacred theology from the International Theological Institute in Gaming, Austria, she plans to enter the Norbertine Canonesses of the Bethlehem Priory of St. Joseph in Tehachapi, Calif. She will be joining Annie Huguelet ('11), who entered the same Southern Californian monastery shortly after her graduation in May.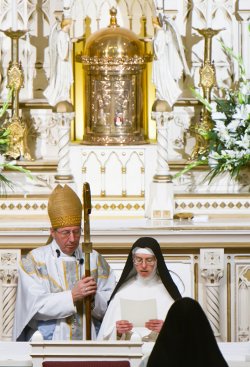 Sr.Mary Oda ('02)
Another alumna at the Priory is Sr. Mary Oda (Jenny Tilley '02), who made solemn profession of religious vows in January. Her mother, Kathy Tilley, writes that "it was a magnificent ceremony," taking place at the Saint John Cathedral in Fresno, and Sr. Mary Oda "is deeply happy." After Thomas Aquinas College President Michael F. McLean sent Sister a Mass card on behalf of the College, she wrote back: "Praised be Jesus Christ! Thank you for your prayers and for having a Mass celebrated for my intentions for the occasion of my solemn profession. I appreciate very much your ongoing spiritual support of my vocation and our Norbertine community. Please be assured of my prayers and my warm greetings to all my friends at Thomas Aquinas College."
Please pray for the vocations of our beloved alumnae sisters!