Faith in Action Blog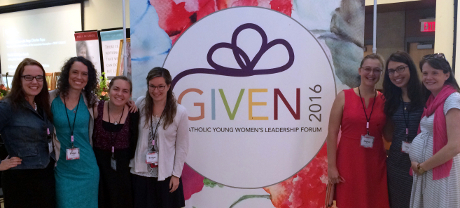 Kathryn Claahsen ('12), Bridget Heffernan ('13), Clara Diodati ('17), Bridget Lynch ('12), Meghan Reichert ('18), Emily Sanchez ('17), and Emily (Barry '11) Sullivan
The seven women pictured above, four alumnae and three current students at Thomas Aquinas College, all participated in the recently concluded GIVEN Catholic Young Women's Leadership Forum in Washington, D.C.
Organized by the Council of Major Superiors of Women Religious — whose former chair, Sr. Regina Marie Gorman, O.C.D., was the College's 2015 Commencement Speaker — the forum included 300 Catholic lay women from across the United States, joined by 75 religious sisters. Its purpose was to provide faith formation to selected attendees, aiding them in their work within their parishes, communities, or dioceses. The weeklong forum included talks from prominent women leaders within the Church, such as Helen Alvaré and Sr. Mary Prudence Allen, R.S.M., as well as small mentoring groups.
In order to attend the forum, participants had to complete a rigorous application that included three letters of recommendation and a detailed action plan for upcoming projects related to their work or apostolates. All expenses for the forum, including travel and accommodations at The Catholic University of America, were paid for through the generous support of the Hilton Foundation.