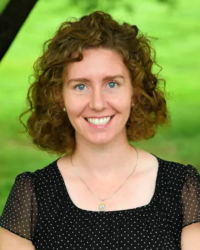 Dr. Kathleen Sullivan ('06)After serving for the last few years as a part-time lecturer at Christendom College, TAC alumna Dr. Kathleen Sullivan ('06) has been named a full-time faculty member in the school's Department of English and Literature. "From middle school students, to undergraduates, to graduate students," notes the Christendom website, Dr. Sullivan "has taught literature, writing, and rhetoric courses at a variety of levels." She will now teach the Virginia-based college's core literature courses as well English Victorian  Literature, Children's Literature of the 19th Century, and English Romantic Literature.
Dr. Sullivan holds a master's degree in English from the University of Dallas and a doctorate from the Catholic University of America. During her graduate-school years, she was a perennial presence on Thomas Aquinas College's California campus, where she served several times as the beloved head women's prefect for the High School Summer Program.
Indeed, it was her own experience of the Summer Program as a high school student  that sparked Dr. Sullivan's love of learning and, ultimately, led her to become an educator. In an essay she wrote about the experience back in 2013, she recalled a life-changing discovery she made about herself during that program:
I want to think, to discover the truths of things, to reason and reflect on what matters in our lives, to understand the world around me from a perspective unhindered by another's bias or predetermined mindset. I wanted to grapple with the questions that Man has always grappled with, and to learn the answers as best I could. I had realized that education was not about the amount of knowledge learned, but about how it was learned. …
I wanted to skip the rest of high school and enter Thomas Aquinas College right away. Yet I returned to high school with a new perspective on education, and found myself more frequently raising my hand to ask questions or propose comments. An education is not passive; it is active, alive, and all within reach.      
Congratulations to Dr. Sullivan on her new job — and to Christendom on an excellent hire!
And speaking of the High School Program, which changed Dr. Sullivan's life as well as that of so many others, it will be offered this summer on both campuses. Please share the good news with any rising high school seniors you may know!