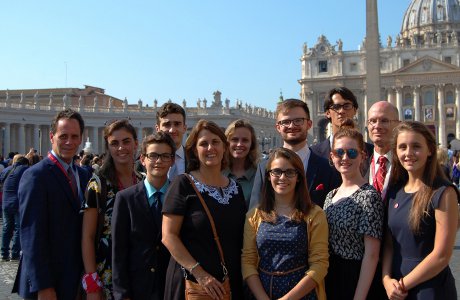 Members of the Morlino family in Rome for the October canonization of St. Katharina Kasper
In late October, alumna Genevieve Morlino ('17), along with her brother Dominic ('21) and their family, traveled to Rome for what she describes as "a rather momentous event" — the canonization of a family member.
St. Katharina Kasper"St. Katharina Kasper started the Congregation of the Poor Handmaids of Jesus Christ in Germany in 1850, and her order has spread throughout the world," writes Miss Morlino. "My mom and her sisters are some of her closest living relatives." Miss Morlino's late grandmother attended St. Katharina's beatification in 1978. There she met His Holiness Paul VI, who presided over the beatification and whom, in God's providence, His Holiness Pope Francis also canonized this October, alongside St. Katharina. "When we heard she was being canonized," says Miss Morlino, "we all knew we had to go."
A recent story in the National Catholic Register tells the history of St. Katharina, the miracle that led to her canonization, and the Morlinos' decision to witness the solemn occasion. "Katharina Kasper was my grandmother's great-great aunt," the story quotes Miss Morlino's mother, Fran, as saying. "We didn't really think we would get [to Rome] this soon, but when we heard about the canonization we said, 'Well, we'll do what it takes to get there.'"
Spurred by her love of Jesus in the poor and the ill, St. Katharina established the Poor Handmaids of Jesus Christ, along with four other women, in a small wooden house. Their mission is to minister to the sick and needy, especially children, and they are known for their love of simplicity. In the years since its founding, the community has spread from St. Katharina's native Germany to Brazil, England, Germany, India, Kenya, Mexico, the Netherlands, Nigeria, and the United States.
Meanwhile Miss Morlino, like her great-grandmother's great-great aunt, is serving the poor as a program development assistant at Catholic Charities of Ventura County.
St. Katharina Kasper, pray for us!