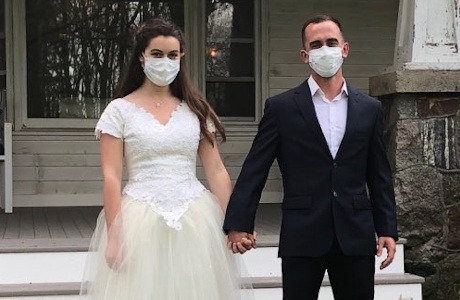 Meg (Downes '20) and Patrick Nazeck ('19)
The first member of the Class of 2020 to make the Faith in Action blog is Meg Downes ('20), who has wasted no time answering her vocation. Last Wednesday, she completed her last examination. The next day, she married Patrick Nazeck ('19) at St. Mary Parish in Kalamazoo, Michigan.
"Even though we had to change a lot of the plans we'd made because of COVID travel restrictions, and after being apart for a year, we were able to have a small ceremony with my family and Pat's parents, about a day after Pat graduated from Combat Engineer School in North Carolina," writes Mrs. Nazeck. "Even though most of our family and friends weren't able to be there, all the love and support we've received from all over the place has been incredible, and it has meant a lot to us in this crazy time."
The couple is next headed to Southern California, where Mr. Nazeck will be stationed at Marine Corps Base Camp Pendleton.
"We thought this picture," the bride adds, "pretty well captured the whole scenario!"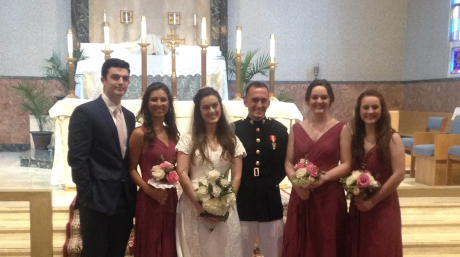 Please keep the newlyweds in your prayers!