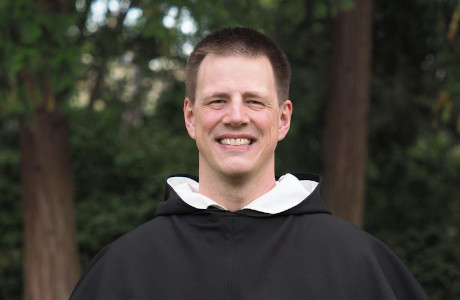 Br. John Winkowitsch, O.P. ('04)
Twenty years ago Br. John Winkowitsch, O.P. ('04), received the Sacrament of Baptism during his freshman year at Thomas Aquinas College. On Saturday, he will receive the Sacrament of Holy Orders as he is ordained to the transitional diaconate at the Priory of Saint Albert the Great in Oakland — the third of four alumni to be ordained this year!
"What do I love more than anything in the world?" Br. John asked upon making his first profession as a Western Province Dominican friar in 2017. "I love the truth, and I love Jesus Christ, and I love the Church. I want to lay down my life sharing that love with others, sharing that truth with others."
Less than a month ago, Br. John completed his entrance into the Dominican Order by professing solemn vows. Now, with his diaconate ordination — at the hands of the Most Rev. Alexander K. Sample, Archbishop of Portland in Oregon — he takes the last step toward the priesthood.
Saturday's ordination, regrettably, will not be open to the public, owing to COVID-19 restrictions. The Mass will be available online, however, via the video player below, starting at 10:30 a.m. PDT.
Please keep Br. John and his fellow ordinandi in your prayers!