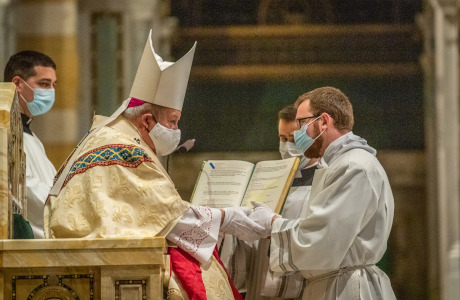 Photos courtesy of The St. Louis Review
The Cathedral Basilica of St. Louis was largely empty of worshipers on Saturday, May 2 — but it was overflowing with grace.
That morning, the Most Rev. Robert J. Carlson, Archbishop of St. Louis, ordained Rev. Mr. Ryan Truss ('16) and five other young men to the transitional diaconate, their last stop before, God willing, entering the priesthood next year. Due to COVID-19 restrictions, the ordinandi were allowed to bring no guests but their parents and had to wear masks throughout much of the ceremony. The parents, also masked, were seated with full pews between them.
"My ordination day was very blessed indeed," writes Rev. Mr. Truss ('16). "I wish that more of my friends and family could have been there to share my joy in person, but I am glad that so many were able to tune into the livestream! To receive ordination at a time like this convinces me that God is never outdone in generosity, even in times of pandemic."
The St. Louis Review has graciously shared the following photos from Deacon Truss' ordination, which reflect the beauty, the sorrow, and the hope of that sacred day: