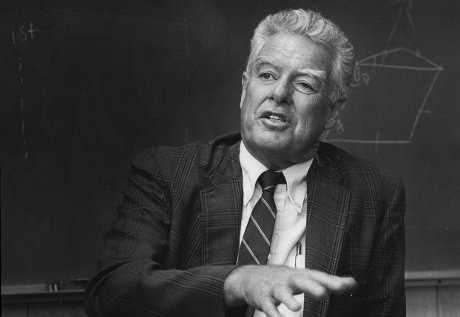 Alumni educators Michael Van Hecke ('86) and Andrew Seeley ('87), president and executive director, respectively, of the Institute for Catholic Education (ICLE), are hosting a dinner this summer at which they will honor Thomas Aquinas College's founding president, Dr. Ronald P. McArthur.
The event, entitled Treasures Old and New, will take place July 7 at the John Paul II Center for the New Evangelization in Denver, Colorado, with the Most Rev. James Conley, Bishop of Lincoln, serving as the featured speaker. During the dinner, ICLE will present its newly created "Rabboni Award" for "teachers who have inspired teachers." The posthumous, inaugural recipients of the award will be Dr. McArthur and Dr. John Senior, founder of the erstwhile Pearson Integrated Humanities Program at the University of Kansas.
"I am personally excited to be able to honor these two men," says Dr. Seeley, a member of Thomas Aquinas College's teaching faculty. "Drs. McArthur and Senior have inspired our work through their teaching and through the many wonderful educational initiatives their students have undertaken. I can't think of a better way to remind Catholic educators of the nobility of their calling."
Dr. Seeley and Mr. Van Hecke invite all Thomas Aquinas College alumni — particularly the educators among them — to share, via the ICLE website, their stories about how Dr. McArthur inspired them.