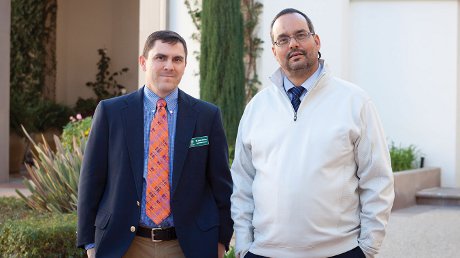 Tom Brittain ('96) and James Atkinson ('97)
An Interview with James Atkinson ('97) and Tom Brittain ('96):
Educators & Coaches
After graduating from Thomas Aquinas College in the mid-1990s, Tom Brittain ('96) and James Atkinson ('97) each found their way to Tempe, Arizona, where they became teachers at Tempe Preparatory Academy, a classical charter school. In an effort to attract and retain more male students, the two founded the school's football team, with Mr. Brittain serving as head coach and Mr. Atkinson as defensive coordinator. Success came quickly. The team, which began as a rag-tag squad in a city flag-football league, soon became an 8-man tackle program, and then graduated to 11-man. Over the course of the coaches' nearly two decades at the school, it became a perennial contender.
Meanwhile, some 15 miles to the west, a renaissance was under way at Arizona's oldest diocesan high school, St. Mary's Catholic. In 2012 the Most Rev. Thomas J. Olmsted, Bishop of Phoenix, appointed Rev. Robert Bolding as the school's president-rector, and Fr. Bolding made it his mission to boost the school's sagging enrollment by enhancing its Catholic identity and incorporating elements of a classical curriculum. To these ends, over the next few years he hired numerous new teachers and administrators, including 11 Thomas Aquinas College alumni, Mr. Brittain and Mr. Atkinson among them.
Today Mr. Brittain teaches one section of speech and rhetoric and two humanities classes in the school's integrated studies program, Seat of Wisdom, while Mr. Atkinson serves as the assistant principal of curriculum and instruction. Of course, the two are also coaching football again, and this year they led St. Mary's Knights to the playoffs for only the second time since 2007.
In January they traveled to their alma mater as part of a recruiting trip, meeting with some two-dozen students for potential teaching jobs at St. Mary's. While on campus, they sat for the following interview, during which they discussed their backgrounds, their move to St. Mary's, and why they recruit fellow Thomas Aquinas College alumni.
How did you first come to Thomas Aquinas College as students?
TB: I had already earned a BA and was working on a master's degree at Northern Arizona University when I first learned about the College. I met a man named Tony Myers ('94) — now Fr. Tony — who had just left the Air Force and was about to start there. He told me all about the College, and that intrigued me. But I had already started my master's, and my wife, Melissa, and I were expecting our second child, so I didn't think it was realistic.
When I finished my master's, that dream of a great books education just didn't die. So I applied to Thomas Aquinas College. We had just had our fourth child, but my wife was very supportive. I didn't think I would get in, and if I did get in, I didn't think the finances would work; but the College was amazingly generous and I was able to come to TAC. My family came with me — we lived in a house in town — and to make ends meet I worked the 3:30 to 8:30 a.m. preload shift at UPS.
JA: I grew up in Tehachapi, California, and went through public school there. As I started applying for college, I didn't know where I wanted to go. I applied to a number of the Cal State universities, and things just weren't working out in terms of finding living space and other arrangements. Then my mom said, "Why don't you try Thomas Aquinas College? I've heard good things about it. Just try it for a semester."
I did, and during that first semester I fell in love with the program and all the classes. I'm more of a math-and-science kind of guy, so I ate up Euclid and Ptolemy. I also loved the theology. And the rich Catholic life on campus was a game-changer for me. Coming here, and seeing people who took their faith much more seriously than I did, really impacted me and the way I lived out my faith. My dad was not a Catholic, but he converted to the Faith during my Junior Year. So being here produced a lot of good fruit for me and my family.
How did you both get into teaching and coaching?
TB: Well, after I graduated in 1996 I wanted to come home to Arizona. I didn't really know what I wanted to do, but I thought that teaching might be a good fit. Then the charter-school movement started, and Tempe Prep was opening as a great books school. So here I wanted to go back to Arizona, I loved the great books, and this charter school was opening up! It was very providential.
JA: I graduated one year after Tom, and I knew he had gone out to Tempe Prep —
TB: We saw each other at a wedding, and I told him about the job. We've been working together ever since, and it's been a great partnership.
JA: I went out there for the job and started teaching my first year out of TAC. Obviously there were struggles as a first-year teacher, but I really found a groove. I loved the interaction of coaching and teaching, building relationships with young men and women. Teaching virtues through athletics is an important part of what we did, and I spent 17 years at Tempe Preparatory Academy, teaching and coaching. Over the course of a few summers, I also went back East and earned a master's in theology from Christendom College.
How and when did you move to St. Mary's High School?
TB: It was always in the back of my mind that I would like to work at a Catholic school, and I had butted heads with leadership at Tempe Prep for a while; but things really came to a head in 2014. We had a new headmaster who suspended me from coaching for two weeks because I had asked my son Isaiah — who was then on the team and is now a freshman at the College — to lead the team in an Our Father. I was just so frustrated. I felt unappreciated and angry, but I didn't want to leave just yet. Isaiah still had a year to go, and I had coached my other sons all the way through their senior years, which was a great privilege.
Still, getting suspended turned out to be a blessing. I think it put me on Fr. Bolding's radar. He sent me a card of consolation, and I thought, "Man, it would be great to work for a man like him." It had always been my dream job to coach at St. Mary's. They were a football powerhouse in the '70s, '80s, and '90s, having won nine state championships. Then, last summer, the job came open, and the timing was perfect. Isaiah had already graduated, and James had already moved over to St. Mary's a year earlier, so he could be my defensive coordinator. He makes me a much better coach. It was very providential.
JA: There had been a lot of turmoil at Tempe Prep, particularly with the issue of Tom's suspension. I was already on the verge of leaving, and that kind of pushed me over the edge. So I left a year before Tom did to teach at St. Mary's, although I continued coaching with him for his last year at Tempe Prep. Then, after one year of teaching at St Mary's, they created a new assistant principal of curriculum and instruction position, which I now hold.
What kind of changes have taken place at St. Mary's?
JA: One of the first things Fr. Bolding did was rewrite the mission of the school so that it more properly reflects the ultimate ends of Catholic education. The other changes that have taken place have flowed from that. After he was appointed president-rector, Father made sure that the new administrators and teachers he hired truly understood his vision and the school's mission and that they were committed to making Saint Mary's the best Catholic high school in Arizona. Saint Mary's is a very mission-driven place. Everything we do, every programming, curricular, and hiring decision we make is made in light of that mission. We continually ask ourselves, Will this decision help us form young men and women who know the Truth and love the Good? If the answer is yes, we move forward. If not, we don't.
Over the past few years, the school has taken all kinds of steps to improve its Catholic identity, but not just in the obvious ways. The former dean of academics, Rob Drapeau, liked to say that Catholic identity shouldn't be sprinkled on top of a school like sesame seeds on a bun; it should be sprinkled into the dough like yeast so that it permeates everything, even if you can't see it. You can see it here at Saint Mary's — we offer two Masses daily and confessions are heard every day at lunch in the confessional we've installed in one of the hallways. And, in addition to Father Bolding, we have another priest — our chaplain — and three Dominican sisters on campus who teach a wide variety of subjects, not just theology, which goes to show that the Faith is part of everything we do.
The first big change in the school culture was spearheaded by the new dean of students (now assistant principal) Father hired. He reformed discipline on campus, rewriting and actively enforcing the dress code, and made a point of supporting the teachers in matters of discipline. There was some pushback at first from some students and parents who felt we were becoming too strict, but the net effect of these changes has been to make the school a place where students can feel good about being modest, professional, and Catholic.
We have also reformed the curriculum. The Seat of Wisdom classes, which Tom teaches, combine the study of English and history in a seminar setting, and now consist entirely of great books. Originally, the program started as an optional track, but after its first two years, we decided to make it the humanities curriculum for all of our students. We also require all students to take a grammar and composition class and a speech and rhetoric class, to ensure they are all up to speed on the Trivium. We have started to make similar changes in all of the other departments as well, such as math, science, and fine arts.
Why do you recruit at Thomas Aquinas College?
JA: To restore the Catholic identity, we need to hire Catholic educators, no matter what subjects they teach. We want to recruit men and women who are well-formed in the Faith and intellectually. We need teachers who take their faith seriously and who want to teach it and live it out as part of who they are. We have sent recruiters here before. This is something we want to do regularly as part of maintaining a faculty that fits our mission and model.
TB: The interest among the students here has been very gratifying, and they have acquitted themselves well in their interviews. They are mature, well spoken, and they clearly love the College, the great books, philosophy, and theology. It is amazing to see so many people coming out of this program who want to teach math and science! At most schools it is rare to find math-and-science people who have some kind of liberal-arts background, so that is one thing that is refreshing and impressive about the College.
"It is amazing to read all the different works from a wide range of disciplines, and see the same truth popping up again and again — whether it's in Euclid, or theology, or natural science. It all comes together to form a full picture."
– Isabella Hsu ('18)
Redondo Beach, California
NEWS FROM THE COLLEGE
CALENDAR
"I was moved and edified by your remarkable fidelity to St. Thomas Aquinas. Your academic program proposes an original way of training men and women capable of reading, thinking and interpreting tradition correctly."
– Marc Cardinal Ouellet
Prefect of the Congregation for Bishops