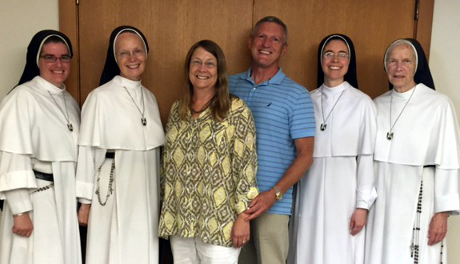 Rose ('76) and Daniel J. Grimm (both '76) with members of the Dominican Sisters of Mary, Mother of the Eucharist, on a recent fundraising trip
"Caring for the poor is not merely an option in Catholicism," says Daniel J. Grimm ('76), the newly appointed director of Catholic Charities for the Santa Barbara pastoral region of the Archdiocese of Los Angeles. "Jesus spells it out as the nonnegotiable basis of morality when He describes the Last Judgment. And if you're going to love the poor the way Christ did, you must love them with the humility and respect that is particularly Christian."
In his new position, Mr. Grimm is responsible for the work of Catholic Charities in Santa Barbara and Ventura Counties, a region that covers nearly 6,000 square miles and a population of more than 1.25 million residents. He oversees a staff of roughly 40 employees who operate nine different service centers across the region, guided by a "Catholic charism," as he describes it, that sets the organization apart from other social-service programs or relief organizations.
"Even though we do a lot of what social workers also do, the core of our mission is to follow Jesus' command to 'love one another as I have loved you,'" he says. That mission requires "having an eye, as we do, to the eternal salvation of all" — the needy as well as the wealthy. "The ministry of Catholic charities is every bit as much for people who have wealth as for people who don't have wealth, because it's vitally important for Christians who have wealth to deal properly with it with regard to caring for the poor," he explains. "In a sense, the wealthy need the poor; they are a gift from God for their salvation."
By virtue of his past professions, Mr. Grimm is uniquely well-suited for his dual roles as minister to both the penniless and the prosperous. Prior to joining Catholic Charities in September, he served as a marriage and family therapist, a job that prepared him well for the pastoral nature of his current work. He is also an experienced fundraiser, having once served as Thomas Aquinas College's director of development. And, as a licensed attorney, he brings the legal acumen necessary for managing a complex organization.
Still, assuming his new responsibilities has had its challenges. "One of my colleagues in Santa Barbara said that starting this job is like trying to drink from a fire hose," Mr. Grimm laughs. "There is an awful lot coming at you, and you can only absorb a tiny little bit!"
Yet in his brief time at the helm, he has already formed a vision for how he seeks to expand the reach and work of Catholic Charities in the region. "I would like to start a specifically Catholic men's counseling program, and I would like to see more marriage counseling offered," he says. "Marital breakup is a huge cause of poverty in society, and while it's great to provide people with the help that they need, one special part of our charism is offering help so people don't need to get in that situation. The most important way is by strengthening marriage, strengthening families."
As for his own family, Mr. Grimm and his wife, Rose (Teichert '76), are the parents of seven children, all Thomas Aquinas College graduates, and the grandparents of 17 grandchildren. He is also the director of the Thomas Aquinas College Choir. Please keep him, his family, and his important work at Catholic Charities in your prayers!