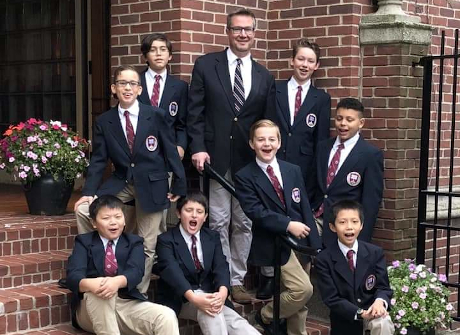 Eric Maurer ('98) with some of his students at St. Paul's Choir School in Cambridge, Massachusetts
The Archdiocese of Boston has named 10 teachers from its Catholic school system as recipients of its 2020 Excellence in Education Awards, including a Thomas Aquinas College alumnus: Eric Maurer ('98).
"The 10 recipients were nominated by parents, administrators, students, and/or their peers because of their strong leadership qualities, Catholic values, academic excellence, and their commitment to their students as well as schools," says the Archdiocese' Superintendent of Catholic Schools, Thomas Carroll. "The honorees are the cream of the crop in terms of faculty members." 
Mr. Maurer and his fellow educators "have gone above and beyond to create a welcoming environment and a culture of success," says Cardinal Seán O'Malley, Archbishop of Boston. As teachers, they "share the Catholic faith in word and action" in the course of their work.
A co-founder of the Lyceum in Cleveland, Mr. Maurer now teaches mathematics, science and Latin to fifth-through-eighth graders in Cambridge, Massachusetts. "I am blessed to work at St. Paul's Choir School, where I am trusted with many subjects and am not only allowed, but actually encouraged, to share and explain the Catholic faith whenever possible," says Mr. Maurer. "I am coming to see that younger boys are natural philosophers, always willing to wonder," he adds. "The enthusiasm that bubbles up when one is sincerely seeking truth is contagious and motivates students as they learn to pursue truth themselves."
Noting that he is "humbled and overwhelmed" to have been chosen for this honor, Mr. Maurer graciously credits his alma mater as the place "where I became educated, as Aristotle describes in his Parts of Animals, learning to think and to repel sophistry with such confidence and humor."