Posted: June 21, 2018
On his official blog, His Eminence Seán Cardinal O'Malley, the Archbishop of Boston, recounts his recent meeting with Thomas Aquinas College President Michael F. McLean. Dr. McLean and other College representatives visited with His Eminence while in Massachusetts, where the College is seeking the approval of the Massachusetts Board of Higher Education to establish a second campus on the former site of a preparatory school in Northfield.
"It is a Great Books-format school  with a very strong emphasis on Catholic formation," the Cardinal writes of Thomas Aquinas College. "So, we're very pleased that they are coming to Massachusetts. We also know that it will mean a lot to the people of the Springfield area, as well as the whole state, that a new Catholic college is coming to Massachusetts." By God's grace, and contingent upon the Massachusetts Board of Higher Education's approval, the College seeks to open the doors of Thomas Aquinas College, New England, in time for the start of the 2019-2020 academic year.
"We are very grateful, first for Cardinal O'Malley's hospitality, and now for his very gracious endorsement of our efforts," says Dr. McLean. "We are confident that there is a place for our program of Catholic liberal education on the East Coast, and we hope to work closely with His Eminence, as well as Bishop Rozanski of Springfield, for many years to come."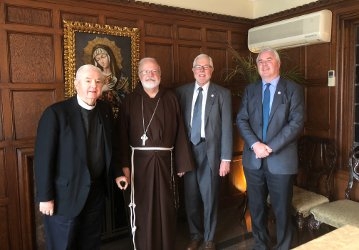 Rev. Paul Lamb, a retired priest of the Diocese of Fall River, Massachusetts, and a longtime friend of the College; His Eminence Seán Cardinal O'Malley, Archbishop of Boston; President Michael F. McLean; and Vice President Paul J. O'Reilly