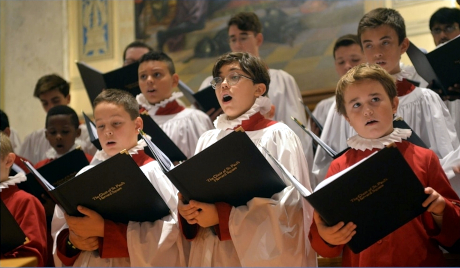 St. Paul's School Choir
Alumni, friends, and benefactors of the College who are within driving distance of Washington, D.C., are warmly invited to join the full student body of Thomas Aquinas College, New England, at this year's March for Life. And the night before, they are welcome to enjoy a free concert of beautiful choir music at the invitation of alumnus Eric Maurer ('98).
A co-founder of the Lyceum in Cleveland, Mr. Maurer now teaches math, science, and Latin at St. Paul's Choir School in Cambridge, Massachusetts. In keeping with the tradition of many great cathedral schools throughout the ages, St. Paul's offers boys, grades three through eight, a Catholic education that integrates rigorous academics with the performance of choral masterworks. On January 23 the school's choir is hosting a concert, "Regina Caeli: Music in Honor of the Blessed Virgin Mary," for all March attendees. The concert will take place at The Catholic University of America's St. Vincent de Paul Chapel, beginning at 7:30 p.m.