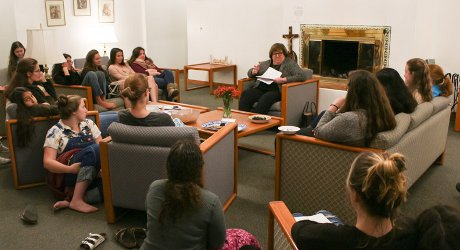 Why is it the Christian's responsibility to welcome strangers and to extend hospitality to them? How can we best make the stranger feel welcome in our home — or on our campus?
Women of Thomas Aquinas College considered these and related questions at the latest installment of the ongoing Dorm Talk series, "The Virtue and Practice of Hospitality," presented by alumna Anne S. Forsyth ('81). For reasons both personal and professional, Mrs. Forsyth has had decades of experience in the art of hospitality — which she readily shared with her young audience.
"In the word of the Old Testament and among the ancient Greeks, hospitality was enjoined, on the one hand, by God, and the other, by the culture, in large measure for protection against the evils that the stranger was subject to," said Mrs. Forsyth. "In the order of grace, Our Lord gives us an additional and higher reason to be hospitable — namely that the stranger and the guest bear the image of God and should be received and cared for accordingly. The Christian virtue of hospitality then demands that we care for our guests as a way of expressing our love for Christ Who is present in them."
As the director of college relations since 2004, Mrs. Forsyth has long been responsible for welcoming friends, both old and new, to Thomas Aquinas College. Yet her work, or service, in hospitality goes back much further. Her parents, Jane and John Schaeffer, were deeply involved in the founding of the College, and as such frequently welcomed the founders to their home in San Francisco, where Mrs. Forsyth learned to be a hostess from her gracious mother. She later married George Forsyth, a U.S. Foreign Service Officer, and their family spent considerable time living overseas, hosting and entertaining foreign officials and diplomats.
"If your guests are staying overnight, organize your shopping, table settings, and room preparations so you get them done well in advance," Mrs. Forsyth advised her audience. "Choose a menu that allows you to do a good deal of the prep work ahead of time, and a minimal amount of work once guest arrive." Every act of service, she observed, is an opportunity to honor one's guests. "We can even elevate our simple acts of care and hospitality," she said, "by being mindful of the image of God in our other family members whom we prepare a meal for, or the baby we give a drink of water to, or the elderly grandfather who must now be spoon-fed."
Now in its fourth year, the Dorm Talks typically consist of a 45-minute presentation, refreshments, and a question-and-answer session that has, on occasion, run well into the night. "These informal talks provide spiritual and moral guidance to the female students to complement the rigorous intellectual studies we have here, and help foster relationships between the girls and the female tutors, tutor wives, and other female role models in the College community," says Resident Assistant Jeannette Richard ('17), who organizes the events along with Student Activities Director Kayla Grimm ('20). "I am so grateful to Anne and to all the wonderful women who have come to share their wisdom and spend an evening with the girls. They are all such lovely examples of Catholic womanhood!"