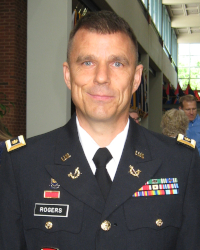 Major Tulsi L. Rogers ('98)
The newspaper of the U.S. Armed Forces, Stars and Stripes, recently reported on a historic legal event that took place in the famed Courtroom 600 at the Justizpalast in Nuremberg, Germany. For the first time in more than 70 years, members of the U.S. Army's Judge Advocate General's Corps were returning to practice law at the very site where they once tried war criminals of the Third Reich. Among the attorneys present was an alumnus of Thomas Aquinas College, Major Tulsi L. Rogers ('98).
As part of an exhibition designed to demonstrate the differences between the German and American legal systems, Major Rogers participated in a two-part mock trial. In the first trial, German attorneys prosecuted a defendant charged with assault and robbery. Then, Major Rogers and his colleagues conducted a similar trial — same facts and charges —under the Uniform Code of Military Justice.
There was no jury in the German trial, and it was mostly the judge who examined the defendant and the witnesses; whereas in the American trial attorneys asked most of the questions. The outcomes, however, were similar. "We arrived at essentially the same verdict for the accused, although different punishments," says Major Rogers. "The UCMJ gives a greater latitude to the panel in punishing the offender, from 'no punishment' to whatever the maximum is in the code."
As the Officer in Charge at the Army's 7th Army Training Command in Vilseck, Major Rogers manages a staff of some 20 lawyers and paralegals. "We provide legal advice and client services to eligible personnel and assist commanders with both administrative law issues and criminal prosecutions under the UCMJ," he explains. "The legal center provides services to both the Army's commanders and the soldiers, family members, and retirees that live in the community." 
When he came to the College as a freshman in 1994, Major Rogers was already 22 years old and a member of the Army Reserve. (He served part time with a unit in Santa Barbara.) He earned his juris doctor at the Ave Maria School of Law in 2004 and went on active duty in 2007. Since last summer he has been on his second tour of duty in Germany, having served in Kaiserslautern from 2012 to 2015. Previously he also served in Korea and Iraq.  He now lives in Bavaria with his wife and classmate, Audrey (Keeler '98), and their four children.