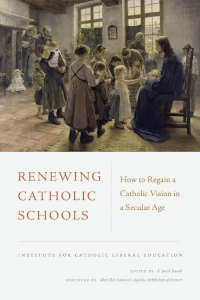 For those lamenting the persistent decline of Catholic schools — academic and spiritual, as well as number and reach — or those seeking ways to bring about their revival, alumni educators Dr. Andrew Seeley ('87) and Michael Van Hecke ('86) have a book for you.
"This book presents to all readers — whether parents, teachers, principals, priests, diocesan personnel or bishops — an opportunity to slow down from the daily crush of responsibility, and reflect on this great mission of the Church," writes Mr. Van Hecke in Renewing Catholic Schools. "This book allows us, we hope, to reflect peacefully on the community of our schools, our character, our essence, and the purpose for which Catholic schools exist — to foster eternal happiness for all members of the school community."
Michael Van Hecke ('86)Published by the Institute for Catholic Liberal Education, for which Mr. Van Hecke serves as president, Renewing Catholic Schools acknowledges the crisis in Catholic schooling, considers possible avenues for reform, and offers concrete suggestions for how parents, teachers, and administrators can begin to bring about renewal within their own schools.
"Crises can force us to realize that fundamental changes need to be made and start us looking to see what has gone wrong," writes Dr. Seeley, a member of the Thomas Aquinas College teaching faculty and ICLE's director of advanced formation. "They can make us admit that the problems began much earlier, that we have become content with years of underachieving and fundamental failures. They might even make us realize that we no longer have a clear sense of where we have come from and where we are going, but have just been sleepwalking or thoughtlessly following the crowd."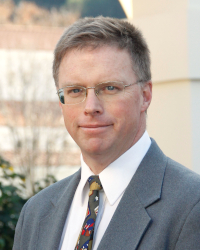 Dr. Andrew Seeley ('87)Renewing Catholic Schools consists of 11 essays, three of which are by Dr. Seeley, and one by Mr. Van Hecke, all edited by Dr. R. Jared Staudt, director of formation for the Offices of Evangelization and Catholic Schools at the Archdiocese of Denver. The essays make an attempt to rediscover what Catholic schools have lost since their heyday and how their tradition of excellence can be restored. The book also cites examples of schools that are leading the way, such as St. Augustine Academy in Ventura, California, where Mr. Van Hecke is headmaster.
High praise for the work comes from none less than the Emeritus Secretary of the Vatican's Congregation for Catholic Education, Most the Most Rev. J. Michael Miller, C.S.B., Archbishop of Vancouver. "This book should be in the hands of every Catholic educator in America," His Excellency proclaims. "A bright future is on the horizon for schools that dare to be authentically Catholic."
Renewing Catholic Schools is available for sale via the Institute for Catholic Liberal Education's website.