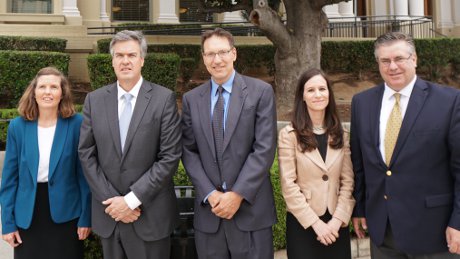 Members of the Life Legal Defense Foundation, including Vice President for Legal Affairs Katie Short ('80, left) and President Paul Blewett ('85, right)
In a Riverside, California, courtroom last week, a legal team led by two Thomas Aquinas College graduates delivered a blow to the state's new assisted-suicide law.
Attorneys from the Life Legal Defense Foundation — whose vice president for legal affairs is Katie Short ('80) and whose president is Paul Blewett ('85) — sought an injunction against California's End of Life Option Act, which went into effect in June. The attorneys argued that granting doctors the power to help kill their patients deprives sick and vulnerable Californians of the constitutional rights to due process and equal protection.
Although Life Legal did not obtain its sought-after injunction, it achieved an important victory nonetheless. In his ruling, Riverside County Superior Court Judge Daniel Ottolia granted that the six physicians and the nationwide medical group that Life Legal represents have standing to challenge the law, and that their case is "ripe" — that is, the End of Life Option Act may cause actual (not just hypothetical) harm to those it affects. As a result, Judge Ottolia rejected the state's attempt to block Life Legal's lawsuit, thereby allowing the challenge of this unjust law to continue.
Please pray for Mrs. Short, Mr. Blewett, Life Legal, and their continued success!