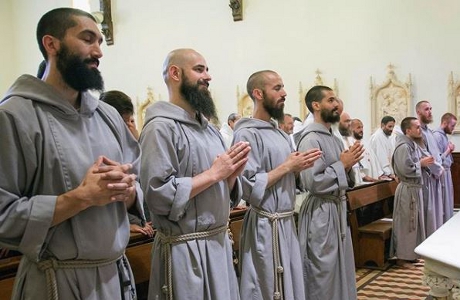 Newly professed Franciscans, including Br. Sean Paul Wood ('13, third from left) and Br. Faustino (Sebastian) Lemmon ('14, second from right)
The Franciscan Friars of the Renewal in the Bronx, N.Y., have announced via their Instagram account that, on August 6, two alumni brethren — Br. Sean Paul Wood ('13) and Br. Faustino (Sebastian '14) Lemmon —made their first vows at Most Blessed Sacrament Friary in Newark, New Jersey. These temporary professions last for one year, during which time the Brothers further discern God's will for their lives. After making annual vows a minimum of four times, the they then become eligible to make final, or permanent, vows, pledging a life of service to the poor on the streets of New York City.
"Br. Faustino Lemmon and Br. Sean Paul Wood are our first Thomas Aquinas College grads to make vows with us," observed the Friars in another Instagram post. "Thanks, Thomas Aquinas College, for preparing them well!"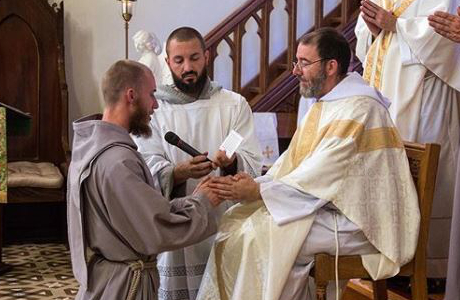 Br. Faustino makes his first profession.
The College is humbled and grateful to have played its small part in God's glorious plan for these men and the holy work of the Franciscan Friars. Let Christ be praised!