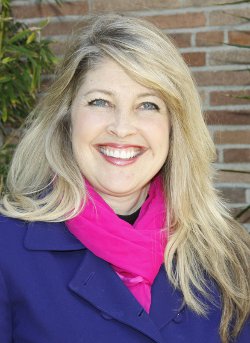 Angela (Andersen '87) Connelly Back in December, the state of Washington's Human Rights Commission (HRC) implemented a ruling on gender identity, making it permissible for the state's residents to enter either men's or women's restrooms and locker rooms purely on the basis of "gender identification," and irrespective of biology. Now an effort is under way to repeal that ruling and create safe restroom and changing areas for all Washingtonians. Leading that effort is a graduate and governor of Thomas Aquinas College, Angela (Andersen '87) Connelly.
In her capacity as the founding president of the Washington Women's Network, Mrs. Connelly is working to collect the requisite 246,372 signatures to put state initiative I-1515 on the November ballot. If approved by the voters, I-1515 would allow for the restoration of sexually segregated bathrooms and locker rooms in public and private institutions, and require them in public schools. The measure would also ensure reasonable accommodations for public-school children who are not comfortable using the boys' or girls' facilities.
"There are schools opening up the bathrooms and the showers (to everyone), which is absolutely unacceptable," Mrs. Connelly recently told Tacoma's News-Tribune. "They're all required to do it by the HRC mandate." The campaign to overturn the mandate, she says, is about common-sense protection. "We want to protect transgender kids. … We want to protect boys. We want to protect girls. It feels like that overly broad HRC mandate does not do that."
In support of the campaign, Mrs. Connelly recently appeared on the My Catholic Faith podcast with Dr. Thomas Curran, director of Trinity Formation Resources. "Inclusiveness means women and children, too," she told Dr. Curran. "Women and children have a human right to be safe and to have privacy and to have dignity, just as every single person does."
As of last week, the Yes on I-1515 campaign had collected 200,000 of the 246,372 signatures it needs to get the initiative on the ballot. The deadline is tomorrow, July 8. Please pray for Mrs. Connelly and her efforts!