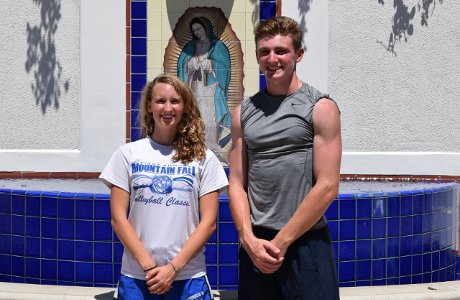 The winners: Olivia and Peter
As promised in an earlier post, we present photos from the Second Annual High School Summer Program Quad Run:
A new but already beloved Thomas Aquinas College tradition, the Quad Run was inspired by a classic scene from Chariots of Fire, in which Harold Abrahams successfully completes Cambridge University's Trinity Great Court Run before the King's Gate Clock strikes 12. On Tuesday afternoon, some 38 Summer Program students staged their own quad run. The athletes sprinted, in pairs, a clockwise course around the academic quadrangle, beginning and ending by St. Bernardine of Siena Library.
Making a special appearance for the day was last year's winner, Lee of Ventura, California, who will be returning to the College as a member of the Class of 2022 this fall. After making a celebrity entrance on to the quad in a golf cart …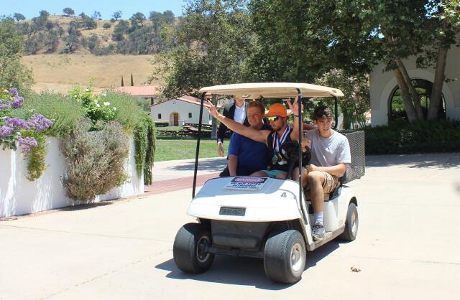 Lee took the microphone and gave a pep talk to this year's runners: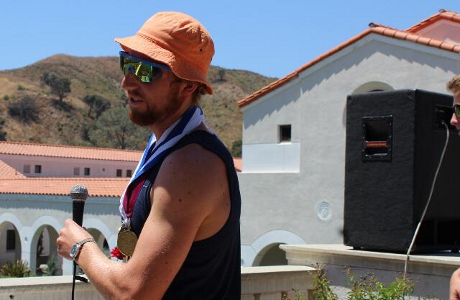 The encouragement worked — perhaps too well! — as two of this year's runners broke the men's High School record of 39.5 seconds, which Lee set just last year. First was Lorenz S. from Germany, who completed the run in 39.3 seconds. Then there was this year's winner, Peter of Camarillo, California, who shattered all previous records with an astonishing time of 37.05 seconds! On the women's side, Olivia from La Mesa, California, bested all competitors with a time of 45.3 seconds.
Congratulations to the champions!
And a special honor to Pauline from Albuquerque, New Mexico, and Joan from Ojai, California, who managed to complete the race in skirts and high heels!