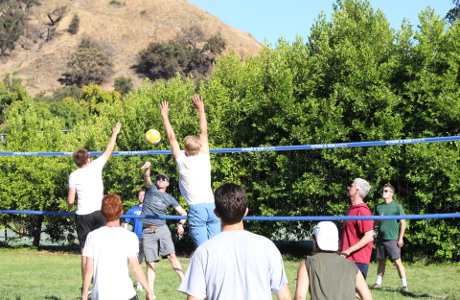 After this afternoon's spectacular — but arduous! — hike to Mugu Peak, the students assembled for the 2018 High School Summer Program volleyball tournament. There were 12 teams of seven members, each with five students and two prefects or, in one case, the Summer Program's two chaplains, Fr. Sebastian and Fr. Paul. The tournament, played on the campus athletic fields, was double-elimination. A few teams flamed out early, while others battled throughout the afternoon, with the squad captained by George Stypa besting Seamus O'Brien's team, 21 to 16.
After that grueling tournament, however, Team Stypa lacked the stamina for one more game — this time against the tutors — and fell just short.
Congrats to all who played!