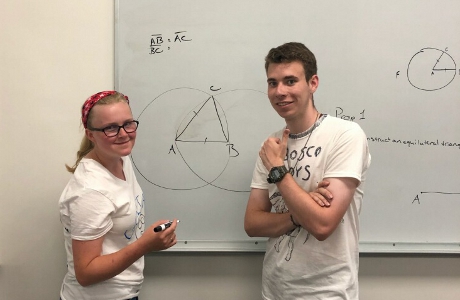 Students demonstrate propositions at last night's study hall
By all reports, the hard work that New England High School Summer put in to studying their Euclidian propositions last night paid off! "The students were universally positive about doing demonstrations on the blackboards at this morning's class," one prefect reports — "even though they were nervous yesterday."
After midday Mass lunch came the afternoon class, the second on Boethius' Consolation of Philosophy. Students considered the question of happiness and what is commonly thought to bring it about, such as wealth, power, or honor. Gradually, the sections worked their way through the text to the realization that those things we often associate with happiness are limited goods — fragments of a larger, true happiness that can be found only in God, the supreme good.
A busy afternoon is already way with practice and a soccer match against the prefects. Then, looking ahead to this evening, Fr. Markey will lead a session of "Theology on Float," in which he will answer anonymous questions about the Faith while students enjoy root beer and ice cream. Prefects have placed a questions box in the library and a questions basket (see below) in the dining commons.
Of course, we will have reports and photos tomorrow, so be sure to come back to thomasaquinas.edu/summerblog.