When we left off yesterday, the 2017 High School Summer Program students had just boarded three buses and a van for a trip to Los Angeles. Traffic was heavy, as it often is in L.A., but the ride passed quickly. Students made good use of the time by practicing their Euclidean demonstrations, thanks to some prescient prefects who brought along paper and pencils for the whole group.
The first stop was the J. Paul Getty Museum in the Santa Monica Mountains, with its panoramic views of the Pacific Ocean and the vast expanse of metropolitan Los Angeles. Students wandered the grounds, gazing upon world-renowned paintings, illuminated manuscripts, Greek and Roman sculptures, photographs, and other works of art, including some by Cézanne, Monet, Van Gogh, Rembrandt, and Bernini. They also found time to take plenty of pictures around the beautiful gardens, fountains, and outdoor patios.
At about 5:00 p.m. the group re-boarded the buses for a trip to the Hollywood Bowl, where students feasted on some 58 pizzas at the picnic grounds before settling in for the Los Angeles Philharmonic's performance, Debussy and Tchaikovsky. Students enjoyed the spirited concert — especially soloist Beatrice Rana's fantastic, standing-ovation commanding performance of Tchaikovsky's First Piano Concerto —  relaxing under the stars on a hot summer night in the Hollywood Hills.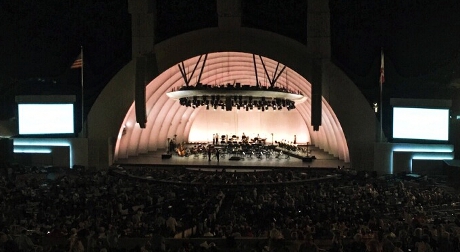 The concert ended fairly late (about 10:30 or so), at which time students returned to the buses back to campus. Then it was off to bed for some much-needed rest before Wednesday's classes on Euclid's Elements and Boethius' Consolation of Philosophy.