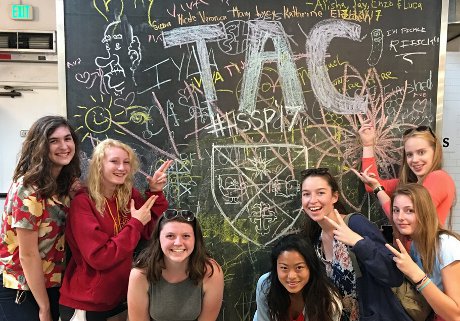 Despite returning late from yesterday's visit to the Getty Center and the Hollywood Bowl, students woke up early this morning, eager to get started on their Euclidean propositions! Prefects report seeing students working by the dawn's early light in the residence-hall common rooms or arriving at the very start of breakfast to seek out assistance.
All the preparation paid off. At this morning's class, the students handily demonstrated Propositions 4, 9, and 10 of Book I, bisecting angles and straight lines like seasoned pros. Indeed, one tutor actually remarked that perhaps the students had prepared "too well," because there were so few questions in his class!
After Mass and lunch, students attended their afternoon class, the second on Boethius' Consolation of Philosophy. They considered the question of happiness and what is commonly thought to bring it about, such as wealth, power, or honor. Gradually, the sections worked their way through the text to the realization that those things we often associate with happiness are limited goods —fragments of a larger, true happiness that can be found only in God, the supreme good.
This afternoon students can look forward to dance practice and a soccer match against the prefects, then dinner, study hall, and the daily Rosary. To cap off the evening, Fr. Sebastian will lead a session of "Theology on Float," in which he will answer anonymous questions about the Faith while students feast on root beer and ice cream.