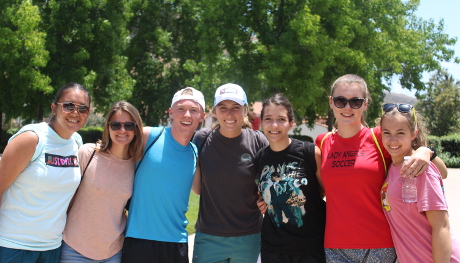 Although Tuesday's recreation period began with the quad run, it certainly didn't end there! As soon as the races concluded, a group of about 40 students hiked up to the Punch Bowls, a collection of spring-fed, natural pools about two miles above the campus. Others made their way to the athletic field for a friendly game of softball and a mid-day snack of cotton candy, spun by prefect Maggie Dillon:
Meanwhile, others still took a dip in the campus ponds:
After a dinner of chicken and pasta with broccoli and cauliflower, students met up with in various classroom for study hall, where prefects helped them practice demonstrating Euclidean propositions. Then there was the nightly Rosary in the Chapel and a presentation in St. Cecilia Hall about the New England campus, followed by the highlight of the evening: Theology on Float.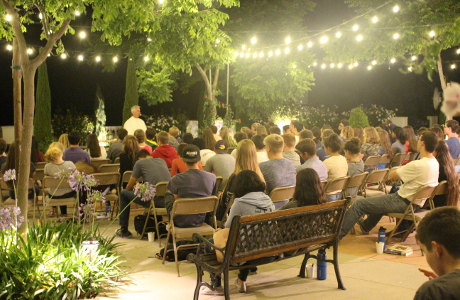 Meeting in the St. Gladys Plaza, overlooking the campus athletic fields, Summer Program Chaplain Rev. Sebastian Walshe, O.Praem., answered previously submitted questions about a wide range of topics. There were more than 100 questions in all, covering a wide range of categories such as Scripture, the liturgy, morality, and theology. Questions ranged from the role of Mary, to intercessory prayer, to vocations. A regular guest on the Catholic Answers Live radio show, Fr. Sebastian was in his element. When discussing popular challenges to the Church's teaching on marriage and sexual morality, for example, he offered the pithy and memorable response: "Your eyes are for seeing, your ears are for hearing, and — surprise, surprise! — your reproductive organs are for reproduction!"
The conversation continued long past curfew, with the boys asking Father more questions in their residence hall's courtyard. Meanwhile, in the girls' residence hall, there was a fierce, student-requested game of dodgeball! (Alas, no pictures were taken.)