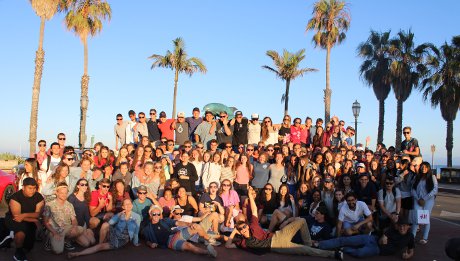 As promised yesterday, we now have a full report — and photos! — from Sunday at the California High School Summer Program.
Students began the day by giving thanks to God at one of two Masses in Our Lady of the Most Holy Trinity Chapel. Early risers attended the first Mass, offered in the extraordinary form, while most others came to the second Mass, offered in the ordinary form. Several of the Summer Program students joined the Thomas Aquinas College Choir, delighting their fellow students with beautifully sung hymns from the Chapel's choir loft. 
After changing their clothes, students loaded into three coach buses for a day of adventure. First stop: Carpinteria State Beach, which is about a 45-minute drive from campus. Highlights of the trip included volleyball, swimming, spikeball, and a picnic lunch of turkey-bacon wraps brought from campus.
Next stop: Santa Barbara, where students enjoyed dinner at various spots of their choosing: family-style Italian, burgers, Mexican, seafood, and others. Prefects accompanied small groups down State Street for shopping, ice cream, boba, and frozen yogurt; then all met up at Stearns Wharf for the group photo at the top of the page.
In the buses on the way back to campus, the group prayed the Rosary while driving down the Pacific Coast Highway, enjoying a spectacular ocean sunset to their right. Upon returning to campus, there was an optional, but well attended, study hall, where students prepared for today's classes on Euclid and Boethius — details of which will be available this afternoon.