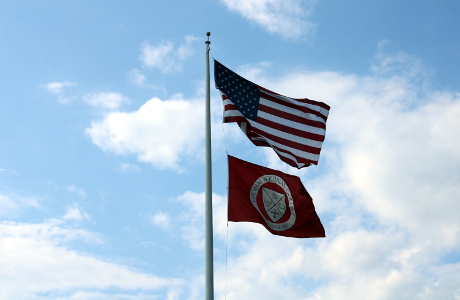 Thomas Aquinas College, New England, is officially open for business!
Throughout the day Sunday, students and their families arrived for the campus' first-ever High School Summer Program. They were greeted by prefects, who led students to their residence halls and offered a campus tour that afternoon:
Nearly everyone arrived in time for a dinner that evening of tri-tip steak, corn on the cob, hot dogs, and beans in Gould Hall. Afterward Admissions Director Jon Daly and Dr. Stephen Shivone, a tutor at the College and the director of the New England Summer Program, welcomed students and gave them a sense of what they could expect for the next two weeks. Head men's prefect Andrew Rossi urged the high schoolers to "live the life of the program to its fullest," giving themselves completely to the experience. His fellow prefects — who report that this seems to be a very academically minded, thoughtful group — are confident that the students will take Rossi's advice to heart!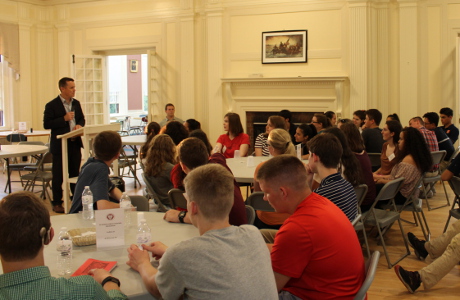 Tired from what was, for most, a long day of travel, the students then retired for ice-cream sundaes in their residence halls, plus a visit from Chaplain Rev. Greg Markey, who spoke about the spiritual life of the College. The prefects discussed the rules of residence, after which the students played various ice-breakers, which — for the boys — included an "extreme" version of the card game "Spoons" and whiffle-ball dodgeball. A number of the young men stayed up all the way until lights out, engaged in in a profound conversation on grace, relics, and the Eucharist.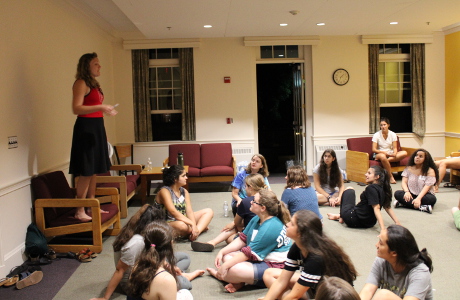 After a breakfast of waffles, eggs, sausage, and blueberries this morning, there was an academic orientation, during which Dr. Shivone introduced his fellow tutors for the New England program, Dr. Josef Froula and Dr. Margaret Hughes. He also urged the students not to be too cautious about speaking up in class — they need not have formulated the perfect comment in order to move the conversation forward. With that in mind, the students then set off for the morning's classes — the first classes ever offered at Thomas Aquinas  College, New England! — to discuss Sophocles' Oedipus Rex.
Come back later today for pictures and updates!