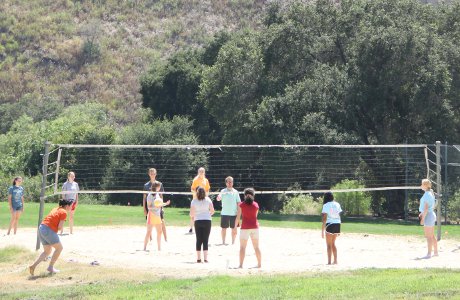 As of this writing, the first day of classes is now complete, and the High School Summer Program students are making use of their first recreation period by playing various sports on the campus athletic fields.
At this morning's classes, students discussed Sophocles' Oedipus Rex, and the conversation carried over into lunch. As students munched on their grilled chicken and French fries, they pondered such questions as whether we should pity Oedipus, and whether virtue ought to be a precondition of receiving pity. Then, in the afternoon class, they moved from pity to piety — specifically, what constitutes piety within the context of Plato's Euthyphro.
With classes under way, the students seem to have begun settling in to the life of the College. "When they arrived, you could tell that a lot of them seemed to be amazed just by the beauty of the  campus," says Head Women's Prefect Kathleen Sullivan ('06). "There was much excitement. Friendships started forming right away." And those friendships are already deepening, as students together learn from the great books — and compete on the athletic fields!
Come back to the Summer Blog tomorrow for more photos!