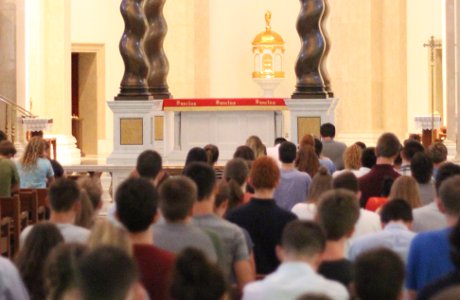 Students pray the Rosary in Our Lady of the Most Holy Trinity Chapel
We have an avalanche of photos from Monday afternoon and evening to share!
Let's begin with the time immediately after lunch, when students gathered outside the library to pose for their ID photos:
We then move on, after the day's second class, to the afternoon recreation period, which included most every sport imaginable — basketball, volleyball, soccer, tennis and Spikeball!
After recreation the group had dinner, at which it sang "Happy Birthday" to fellow student Paloma, who kindly shared her cake with all at her table. The students then came to St. Bernardine of Siena Library for their first study hall of the program. There they read up on Sophocles' Antigone and three pre-Socratic philosophers (Empedocles, Democritus, and Epicurus) in preparation for today's classes. Some even got a head start on Boethius' Consolation of Philosophy for Wednesday. "They were very studious!" one prefect reports.
From there it was time for the nightly Rosary in Our Lady of the Most Holy Trinity Chapel (see photo, above) followed by a busy coffee shop in St. Cecilia Hall. Students played foosball, pool, ping-pong, and cards, while enjoying Italian sodas prepared by the prefects.
After more socializing in the residence halls, everyone called it a night. Stay tuned for a report on today's classes in the next post!