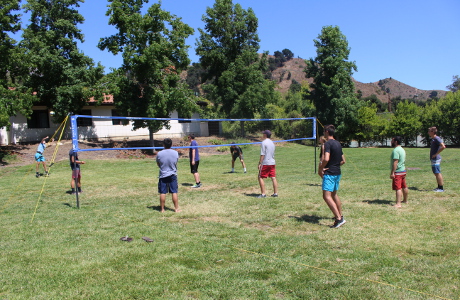 All of the regular afternoon activities — volleyball, basketball, tennis, and more — took place during Wednesday's recreation period, plus the addition of a Summer Program favorite: watermelon water polo, in which teams of women, and then men, attempt to bring a greased watermelon across the pond and to the opposing team's goal.
"Both games were intense," one prefect reports, "and Seamus O'Brien was an animal." The boys, in particular, worked themselves into a competitive frenzy. At first they smeared the Crisco that's used to grease the watermelon on to their bodies, ostensibly to make themselves more slippery in the pond. Then, for good measure, they put the vegetable oil-based shortening into their hair, too — for reasons undetermined. But they looked fierce and had a great time!
This exhausting and hilarious activity was followed by a hearty enchilada dinner, then a study period in the library and classrooms. Students once more practiced their Euclidean propositions with the help of the prefects, and they also prepared for today's last class on Boethius.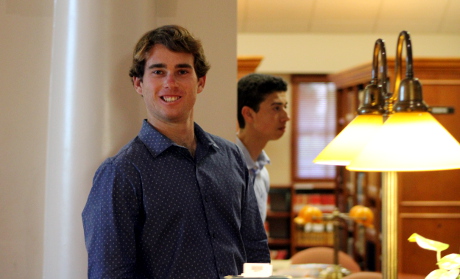 Study hall was abbreviated, however, so as to make time for a special treat: a musical oratory in Our Lady of the Most Holy Trinity Chapel, courtesy of the Schola Cantorum of the London Oratory School, which visited the campus as part of its tour of the Western United States. The oratory consisted of meditations and hymns about Our Lady, the Blessed Sacrament, and penitence and redemption, as well as a sung compline. The Chapel was near full capacity, with many local friends and alumni of the College joining the Summer Program students for this blessed experience. "The music was so beautiful, it gave me goosebumps," one student declared, echoing a sentiment shared by all present.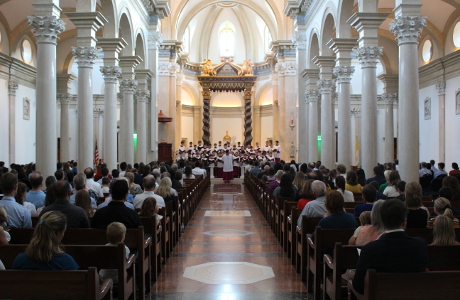 An evening coffee shop followed, and a good number of students took the opportunity to practice their dance moves in preparation for Friday's farewell gala. Rosary took place after curfew in the residence halls, with a few students staying up late to practice their Euclidean propositions.
It's hard to believe, but the program is nearing the end!