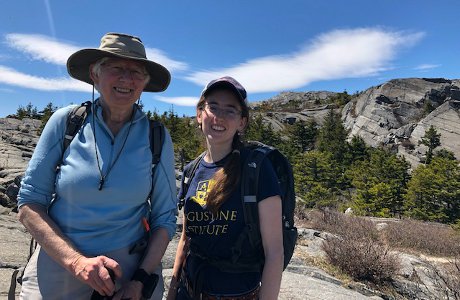 A beloved emerita member of the College's California teaching faculty, Dr. Carol Day is currently visiting the New England campus, where she is helping its associate dean, Dr. Thomas Kaiser, prepare the biology, chemistry and physics labs for this fall. While in the area, Dr. Day — a renowned hiker, camper, backpacker, and trailblazer — couldn't resist exploring nearby Mt. Monadnock, accompanied by Dr. Kaiser's assistant, Andrea McCann ('13).
A Mt. Monadnock hike is one of many excursions planned for this year's inaugural New England High School Summer Program — along with trips to Boston and a canoe trip along the Connecticut River  — and Dr. Day and Miss McCann offered a very encouraging scouting report. "The mountain peaks at around 3,210 ft. and is located about 50 minutes from campus," writes Miss McCann. "The trail was a Level 3, which indicates a fairly challenging hike. It's a fun adventure that I know students will enjoy!"
A few spots are still available for this year's Summer Program, on both coasts. All rising high school seniors are encouraged to apply!