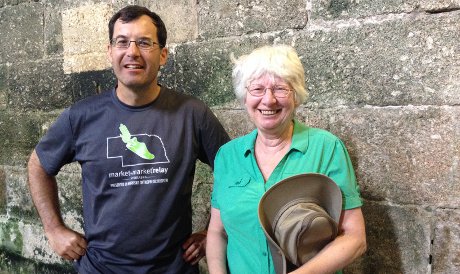 While making a summer pilgrimage along Spain's Camino de Santiago de Compostela, Rev. Ramon Decaen ('96) encountered a familiar face — that of College tutor Dr. Carol A. Day. Writes Fr. Decaen:
"I was at about kilometer marker 40 when our group of four went on a 4 km side tour of a 12th century convent. We had a tour with four other pilgrims. I was shocked to turn and find Dr. Carol Day was one of those pilgrims! She was my college astronomy professor. Small world!"
Like Fr. Decaen, Dr. Day is hiking the Camino de Santiago de Compostela, joined by another graduate of the College, Wendy-Marie Teichert ('81). Fr. Decaen is a priest in the Diocese of Lincoln (Nebraska), where he is the pastor of the Parish of Cristo Rey, the city's largest Spanish-language church. He is also the diocesan director of Hispanic ministry, which serves some 148,000 Lincoln residents. Please pray that he, Dr. Day, and Miss Teichert will continue to be blessed along The Way!