Against all odds, the 2020 High School Summer Program is just around the corner! The California program starts on July 12, and the prefects — all students and recent graduates of Thomas Aquinas College — cannot wait to get to meet this year's attendees. Until then, you can now "meet" them, virtually, through the following profiles (part one of three):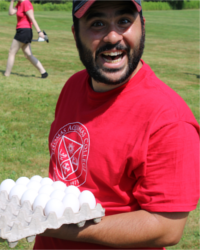 Andrew Rossi ('13) It's been some time since Andrew Rossi ('13) attended the Great Books Summer Program as a student in 2008. Twelve years and eight programs as a prefect later, Rossi (as everyone calls him) still looks forward to this rite of summer and encourages students to detach from electronics and social media in order to truly avail themselves of the opportunity. "Leave your cell phone in your room and don't touch it for the two weeks," he recommends. "It will allow you to fully commit yourself to the program and get to know so many great people who could become friends for the rest of your life." When he's not serving as head men's prefect, Rossi teaches logic, geometry, history, and chemistry at St. Augustine Academy in Ventura, California.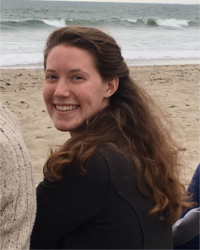 Zoe Appleby ('18) This will be the sixth year that head women's prefect Zoe Appleby ('18) of Santa Paula, California, has worked on the Great Books Summer Program, and she still vividly remembers her own "magical" experience of attending the program when she was in high school. Zoe recounts that she had never before "experienced anything like what I found at the Summer Program, a true retreat of beauty and learning, where the students both give themselves wholeheartedly to their studies and find so much joy in life." Zoe has spent her summer finishing up a master's degree in Medieval Art History (while simultaneously helping to teach a virtual history course) at the University of California, Riverside. She is also a great lover of fiction and literature, having participated in plays such as Much Ado About Nothing (director) and Othello (Desdemona) during her student days at the College.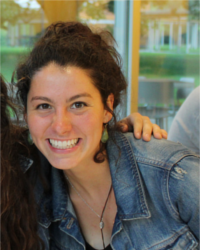 Maggie Dillon ('21) After working four Summer Programs as a prefect, as well as attending one of her own, Maggie Dillon ('21) from Lunenburg, Massachusetts, says she could never pick just one favorite memory. However, she can tell us that her "favorite thing about working on the program is getting to know so many great people and having such good conversations with everyone, as well as just being crazy and having fun." Head male prefect Andrew Rossi describes Maggie as "filled with faith and fire" and "one of the most competitive people you will meet." Sporty, fun-loving Maggie is always ready for a little competition — whether it's on the athletic field or in a friendly debate!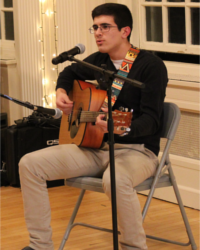 Jean Guerreiro ('22) Jean Guerreiro ('22), who hails from Brazil, is an expert at taking risks. Upon moving over 5,000 miles to begin his studies at Thomas Aquinas College, New England, Jean commented, "I'm just taking a risk, as I did when I left my country, my family, my friends, and came here. Every life worth living requires taking some risk." Praise God, that risk paid off! Now, with two Summer Programs (one as an attendee and one as a prefect) and two years at the College under his belt, Jean heartily recommends that this year's attendees take a risk of their own by fully committing to the program. "If you trust the order of the program, and live intensely every second of your time here," he says, "you will see that the spiritual life, classes, and outdoor activities work together so neatly that it will be hard for these not to be the best two weeks of your life."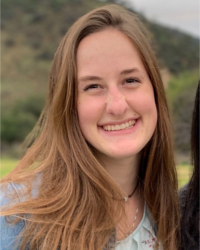 Josephine Dragoo ('23) First-time prefect Josephine Dragoo ('23) of Santa Paula, California, is looking forward to the return of students on the very empty California campus, where she has spent her summer tending the grounds. In addition to the return of social life, though, Jo recommends that students consider the Summer Program as an opportunity to return to the spiritual life as well. "Most people have been without the sacraments during this scary time," she comments, "and at the Summer Program you're given an incredible experience to incorporate the sacraments into your daily life for two weeks." Friendly and outgoing, Jo eagerly anticipates meeting all the students at this year's Summer Program, recalling that her own favorite program memories involved spending time in the coffee shop with new friends after a long day of classes and activities. 
Tanner Sheffield ('23) Like this year's program attendees, Tanner Sheffield ('23) — a sophomore at Thomas Aquinas College, New England — will be experiencing the Great Books Summer Program for the first time this year! Hailing from Yuba City, California, Tanner has spent most of his summer volunteering at his local parish, reading, and playing the guitar. (Fellow prefect Irene Collins tells us he's an amazing guitarist!) He advises programmers to bring this kind of balance into their two weeks at Thomas Aquinas College. "Come with an open mind," Tanner recommends. "Study hard and play hard." He looks forward to making new friends and new memories on the beautiful California campus.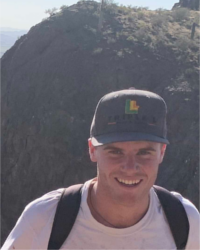 George Stypa ('21) The promise of the Great Books Summer Program is what got George Stypa ('21) from Tucson, Arizona, through quarantine this year. Approaching his third summer as a program prefect, George remarks, "I greatly enjoy introducing the high school students to the Discussion Method used in the classrooms at TAC." When not working, George has spent this summer mountain biking, climbing, fishing, and enjoying the great outdoors. Prefect Maggie Dillon assures us that "No, he does not bleach his hair — those locks are all natural," but we're not sure we believe her, and encourage Summer Program attendees to judge for themselves come July 12!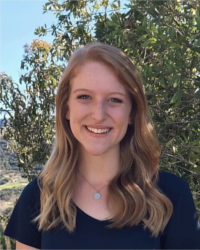 Abigail Cain ('23) First-time prefect Abigail Cain ('23) is approaching this year's Great Books Summer Program with the same vivacious joy she brings to everyday student life as a rising sophomore at Thomas Aquinas College, California. Not letting quarantine get her down, Abigail spent this summer running, baking, and enjoying time with her family in San Diego. Overjoyed that the Summer Program is still on, she can't wait to see this year's students have the same amazing experience she so fondly remembers as "two of the best weeks I have ever spent." As the Summer Program approaches, she urges students to "allow yourself to be open to new experiences, friendships, knowledge, and a deeper relationship with God."