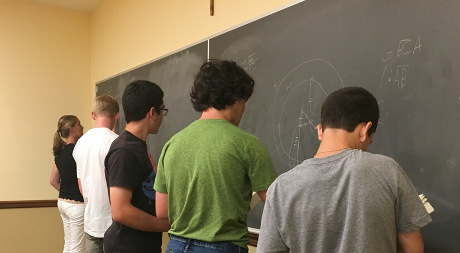 Following Monday's classes and an abbreviated recreation period, students took to the campus coffee shop, where Dr. John Nieto, a member of the College's teaching faculty, presented his annual talk, "Art and Beauty." As part of his discussion, Mr. Nieto spoke about many of the works that students would see during their Tuesday-afternoon trip to the Getty Center in Los Angeles. Then came dinner, followed by an Admissions meeting, at which Admissions counselors and Director Jon Daly took questions from students about the College and its application process.
During study hall students met with prefects and fellow members of their sections to prepare for Tuesday morning's class, at which they would be called upon to demonstrate Euclidean propositions on the chalkboard. "They seem very well prepared," one prefect observed. "Mostly I was only helping them put a little polish their presentation."
After study hall and Rosary, the group gathered on the basketball courts for two highly anticipated match-ups of students vs. prefects. The women's game was a nail-biter, with the prefects scoring the winning basket with only 10 seconds left on the clock. The men's game was not as close, but was nonetheless hard-fought, with the prefects emerging triumphant.
Back in the residence halls after curfew, students recapped the basketball game and feasted on soft pretzels. Then it was time for consecration and lights out so that all would be fresh and alert for the next morning's presentations!