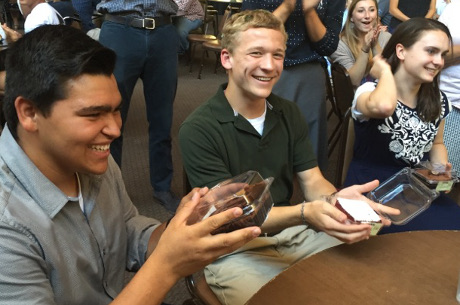 Although they got in late last night from their cultural excursion to Los Angeles, the 2016 High School Summer Program students awoke bright and early this morning for some last-minute Euclid cramming in anticipation of today's first class. "They looked confident," says one prefect. "Having one day's experience under their belts, they seem to feel good about going into the second day." With poise and skill, the students approached the chalkboards and demonstrated propositions pertaining to side-side-angle and side-side-side congruency, as well as bisecting angles and lines.
Mass followed the morning class, and then lunch, at which the group celebrated the birthdays of Orion, Gabe (whose birthday, technically, was yesterday), and Evelyn. Another July 27 baby, Antonia, somehow managed to miss the cake and singing at lunchtime, but prefects plan to try again at dinner tonight.
In this afternoon's class, students resumed their discussion of Boethius' Consolation of Philosophy. The conversation looked at the order of the work and the varying notions of goodness that it discusses. With classes over for the day, the group now enters the afternoon recreation period. Today's session  includes a practice for the end-of-the-program dance, which is, incredibly, just two days away!
Beginning at lunch, and continuing throughout the dance class, the prefects have placed a question box on one of the tables in St. Joseph Commons (see below). At his "Theology on Float" session this evening (so called because the discussion is accompanied by root-beer floats), Fr Sebastian will answer students' anonymously submitted questions about all matters pertaining to the Faith: