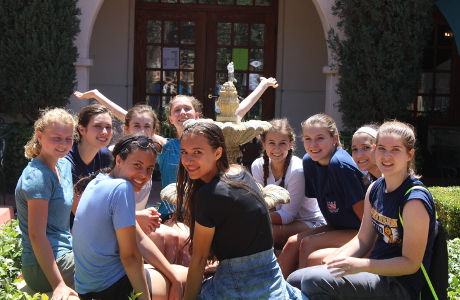 After recharging from a busy Friday night, students rose Saturday morning, ate breakfast, and then made their way into the foothills surrounding the California campus. When they reached the top, they found High School Summer Program Chaplain Rev. Sebastian Walshe ('94) preparing an altar for a reverent Mass with a majestic view:
"It is very important that we conform ourselves to the natural world, that we immerse ourselves in the natural world," Fr. Sebastian said in his homily. "We live in a society that has been marked, or characterized, by the triumph of the artificial. You're on your phones, your Internet, you're constantly surrounded by artificial, manmade things. But you know the things made by man come from the mind of man, and they are no greater than you are. They just come from a human source, a human mind. And therefore, by immersing yourself in them, you're never elevated or lifted above yourself. But the things of nature come from the mind of God. And so by investigating and studying and immersing yourself in the things of nature, your mind is ordered by God's own mind and elevated to the Divine."
When the students returned to campus, the prefects set up a giant slip-n-slide by the athletic field, which provided a fun way to beat the heat. One of the favorite activities was when a number of the boys made a "bridge" under which their fellow programmers could slide!
Then came the much-anticipated 2019 California High School Summer Program Volleyball Tournament. There were 12 teams of six members, each captained by a prefect or Admissions counselor. The tournament, played on the campus athletic fields, was double-elimination. A few teams flamed out early, while others battled throughout the afternoon, with the squad captained by John Jost ('17), admissions counselor for the New England campus, emerging triumphant.
Even after that grueling tournament, however, Team Jost had enough stamina to hold on for one more game — besting a team of the College's tutors and chaplains.
Of course, that was only the beginning of the day: Up next is the BBQ dinner, Open Mic Night, and a movie. Come back Sunday for news and photos!