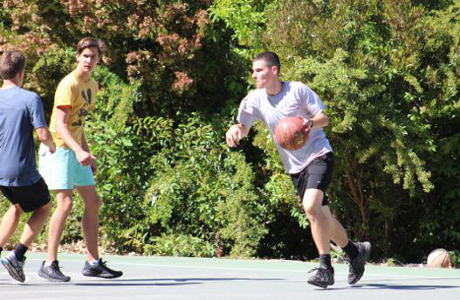 Last we posted, students had just wrapped up their second class of the 2019 California High School Program, an examination of  Plato's Euthyphro. One student reported that he loved his first taste of the Discussion Method: "Our class did a really good job of tackling Socrates' argument for piety," he said. "We got confused at one point, but we were able to  come back and make sense of things."
From there it was the first afternoon recreation period of the program, highlighted by Section Wars — a series of relay races and other contests waged between the various sections, or classroom groupings, of students. The activities included racing while carrying an egg on a spoon in one's mouth, sprinting in an old set of soaked clothes, and fun with water balloons! Afterward, the games continued with volleyball, ultimate Frisbee, soccer, and basketball on the athletic fields.
Pleasantly exhausted, the group then made its way to dinner and refueled with hearty helpings of ribs, macaroni, sweet potatoes, and corn on the cob. "That was just what we needed after running around for hours and hours!" remarked one prefect. At the first study hall of the program, the students were "very studious and quiet," one prefect happily reported. "The only time I had to quiet a student down it was because he was speaking too loudly about the pre-Socratics!" (subject of this afternoon's class).
Then it was time for the nightly Rosary in Our Lady of the Most Holy Trinity Chapel, led by prefects, followed by prefect-prepared milkshakes in the Coffee Shop. In between sips, students engaged in vigorous games of air hockey, pool, cards, ping-pong, and Newspaper. The night concluded with cheese and crackers back in the residence halls, followed by consecration and lights out.
Come back this afternoon for the next update!