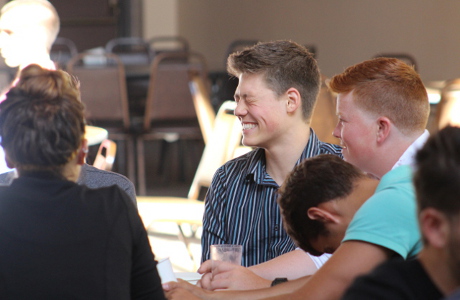 As of this writing, the first day of classes is now complete, and the High School Summer Program students are making use of their first recreation period by playing various sports on the campus athletic fields.
This morning, students began with an academic orientation in St. Cecilia Hall, where they met their tutors for the first time, followed by Mass in Our Lady of the Most Holy Trinity Chapel. There, Program Chaplain Rev. Sebastian Walshe, O.Pream., spoke about Pope Benedict XVI's oft-quoted challenge, "The world offers you comfort, but you were not made for comfort. You were made for greatness!" Using the Pope Emeritus' words as a springboard, Fr. Sebastian urged the students to aspire for greatness, both academic and spiritual, over these next two weeks:
Then came the first class of the program, during which students discussed Sophocles' Oedipus Rex. Among the questions considered were "Did Oedipus deserve his fate?" "Should we morally condemn him for his actions?" "Ought we to pity Oedipus?" Students met outside the library to get sized for their Summer Program t-shirts and photograhed for their IDs:
At a lunch of steak gyros and Greek salad, resumed their classroom discussions of Oedipus before making thier way back to the next class … 
Come back to the Summer Blog tomorrow for updates about the day's second class — on Plato's Euthyphro — as well as photos from the first recreation period and Monday night's activities!