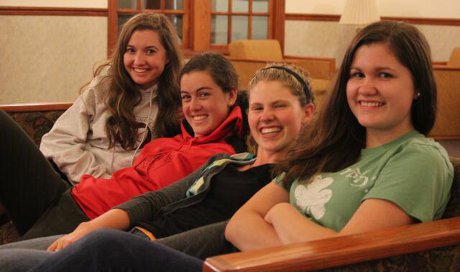 In Wednesday afternoon's class students continued their conversations about Boethius' Consolation of Philosophy. They considered the question of happiness and what is commonly thought to bring it about. Gradually, the sections worked their way through the text to the realization that those things we associate with happiness are but fragments of a larger, true happiness that can be found only in God.
During the recreation period, prefect Daniel Selmeczy led a second dance class, preparing students for tomorrow's farewell gala. Chris reviewed the merengue and swing, adding a few new steps into the mix. As soon as the class ended, the group headed to the athletic field for a best-of-three prefects vs. students match of ultimate Frisbee, which the prefects won handily in two games, 10-4 and 10-1.
At study hall students prepared for today's classes on Euclid and Boethius, after which they met up in the Chapel to pray the Rosary. Then came the highlight of the evening, "Theology on Float." Prefects served scores of root-beer floats to hungry students, who sat back and heard Fr. Sebastian answer their anonymously submitted questions on all matters pertaining to the Faith. The topics included Holy Scripture, Purgatory, and sexual morality, and they led to further post-curfew discussions around the fire pits the residence-hall courtyards. Fr. Sebastian joined the men's conversation, as did Fr. Paul the women's, before leading students in their nightly consecration.
It was another great day — only two more to go!