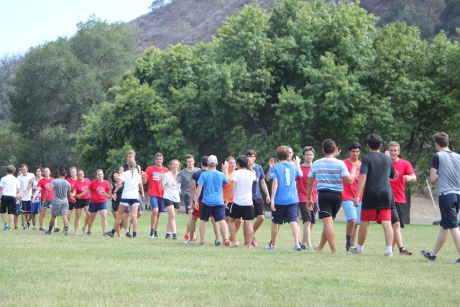 On Thursday afternoon, students concluded their last class on Boethius and then took to the athletic fields for their second-to-last recreation period. All gathered for a soccer tournament versus the prefects— a fierce match with multiple lead changes that ultimately went into overtime. Ten minutes into the extra section, John Jost ('17) delivered victory to the prefects with a dramatic game-winning goal.
The competition, however had only just begun. The group quickly moved from the soccer field to the campus ponds for what has been dubbed "watermelon rugby," in which teams of women, and then men, attempted to bring a greased watermelon across the pond and to the opposing team's goal. This exhausting and hilarious activity was followed by a hearty dinner, then a final study period in the library and classrooms. Students once more practiced their Euclidean propositions with the help of the prefects, and they also delighted in a new addition to the program curriculum, Flannery O'Connor's "Everything that Rises Must Converge."
At the end of study hall, all gathered in front of the Chapel for a candlelight Rosary procession to the Lourdes Grotto, led by Fr. Sebastian. Upon arriving at the grotto, which prefects had surrounded with candles beforehand, students finished praying the Luminous Mysteries, then fell silent, deep in prayer. The silence only broke several minutes later, when the group headed back toward the upper campus, singing hymns along the way.
In the short time before curfew there was one last dance class, followed by some spontaneous dancing in St. Joseph Commons and cool drinks in the campus coffee shop. At 10:30 p.m., all returned to their residence halls — but the night was not over just yet.
Soon after curfew, the ladies of St. Monica's Residence Hall were startled to hear music coming from outside their courtyard. When they looked out their windows, they saw the men of the Summer Program — dressed in their Sunday best — singing "Stand by Me," "Love Story," and "Red is the Rose." The serenade, which was sung from the heart, even if somewhat off-key, made such an impression that it was the subject of conversation at breakfast this morning.