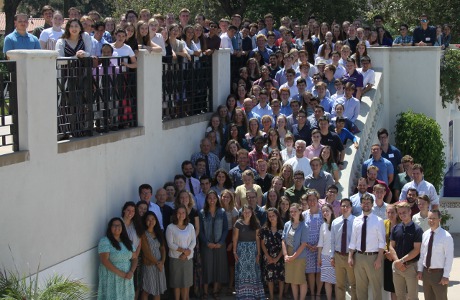 At this morning's class, the students of the 2018 High School Great Books Program discussed Sophocles' Antigone, considering the perennial conflict between individual conscience and obedience to civil laws. Then, before heading to lunch, they came to the Guadalupe Fountain to pose for a group photo as well as photos of their class sections:
After lunch the students moved on to their second class, a discussion of the pre-Socratic philosophers, particularly how Empedocles, Democritus, and Epicurus understood the origins of the natural world. Their conversation should make for some intriguing comparisons with the subject of tomorrow's class, the Book of Genesis.
But first students have this afternoon's recreation session — plus dinner, study hall, Rosary, and coffee shop — to look forward to, followed by tonight's dorm parties!