Posted: September 17, 2020
In addition to earning, once more, a coveted spot in the Top of 50 of U.S. News & World Report's annual ranking of national liberal arts colleges, Thomas Aquinas College has this year claimed a new distinction: No. 3 in the United States for social mobility.
For the first time, the 2021 edition of the magazine's popular Best Colleges guide features a list of Top Performers on Social Mobility, based on the graduation rates of students who receive Pell Grants. "Economically disadvantaged students are less likely than others to finish college, even when controlling for other characteristics," U.S News reports. "But some colleges are more successful than others at advancing social mobility." Only 216 of the country's colleges are included on the list, and Thomas Aquinas College is the only Catholic institution to crack the top 50.
The College is, likewise, one of only two Catholics schools in the top 50 of U.S. News' annual list of the best American liberal arts colleges (No. 40), and its faculty rank No. 57 for Best Undergraduate Teaching. Per usual, the College has also received high marks for its financial aid program, ranked No. 86 on U.S. News' comprehensive list of academic Best Values.
In discussing the basis for these rankings, U.S. News explains that they are based on "17 measures of academic quality," ranging from graduation and retention rates to faculty resources and reputation. "Graduation rates themselves have the highest weight in outcomes and in our rankings," the magazine's editors note, "because degree completion is necessary to receive the full benefits of undergraduate study from employers and graduate schools."
Moreover, in naming colleges to its "Best Values" list, the guide considers "only schools ranked in or near the top half" for both affordability and academics, "because U.S. News considers the most significant values to be among colleges that are above average academically. The guide additionally ranks Thomas Aquinas College first in the country for the highest proportion of classes under 20 students (100 percent) and the lowest proportion of classes with more than 50 students (0 percent). 
"We are pleased, as always, with the College's annual U.S. News rankings, which are evidence that our program of Catholic liberal education is a success by any measure," says Director of Admissions Jon Daly. "Of special significance this year is the College's No. 3 rating on the Social Mobility list, which testifies to the vision of our founders — and the generosity of our benefactors — who were determined, from the very beginning, to make this faithfully Catholic, academically excellent education affordable to anyone with the will and ability to undertake it."
Beyond achieving its perennial spot near the top of the U.S. News list, Thomas Aquinas College has received high marks in the most recent editions of all the top annual college guides, both Catholic and secular, including The Princeton Review, WhatWillTheyLearn.com, Kiplinger, and the Cardinal Newman Society.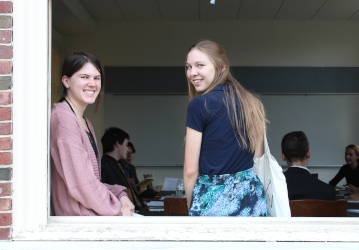 "Thomas Aquinas College is a small college, but its reputation has spread far and wide. Because it lives off the masterpieces of thought and literature emanating from the Christian tradition of the Western world, it provides a first-rate education for a select body of talented undergraduates."
– Avery Cardinal Dulles, S.J (†)
NEWS FROM THE COLLEGE