Posted: October 9, 2020
Whether he is raising the thundering peals of the organ during Sunday Mass, rehearsing the student choir to perfection, or giving quality musical instruction to any that ask, Stephen Grimm ('75) is bringing first-rate music to Thomas Aquinas College, New England — just as he did as a member of the College's first class in California nearly 50 years ago.
"I already consider New England to be home," says Mr. Grimm, who, along with his wife, Laura, moved to Northfield, Massachusetts, last fall to become the first choir director on the newly opened East Coast campus. In taking on this position, Mr. Grimm continues his family's storied musical history at the College, while serving as a counterpart to his brother Dan ('76), who directs the choir in California.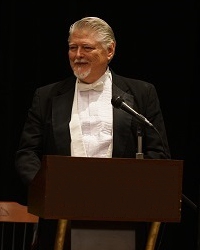 Stephen Grimm ('75) Born in Burbank, California, Stephen is the fifth of Irene and Bill Grimm's 17 children, 14 of whom, like Stephen, attended Thomas Aquinas College. He began composing tunes for the piano at the age of 5, but because his family could not afford regular musical instruction, for many years the young prodigy was self-taught. Nevertheless, music was always strongly encouraged in the Grimm household. As a boy, Stephen and six of his brothers and sisters would pile into a minibus and perform across the state as the Grimm Family Choir. "We were like the Von Trapps," he muses.
It was while attending Loyola High School in Los Angeles that Stephen met Laura, whose father was a major opera singer, performing around the Mediterranean in France, Italy, Egypt, and Malta. "Stephen and I met when I was 16 and he was 17, and I found out he didn't have a piano teacher," Mrs. Grimm recalls. "I, on the other hand, was totally babied and had piano lessons and a practice room." The two shared an intense love of music, which has continued throughout their marriage.
As Stephen neared his high school graduation, his father eagerly watched as Thomas Aquinas College prepared to open its doors in 1971. As the story goes, Bill was so enthused that he drove four of his children to the College's original campus in Calabasas for interviews. What followed was an impromptu audition, with the Grimms singing Palestrina in the building's foyer, much to the delight of the College's founders. There would be six Grimms among the College's first five freshman classes — the backbone of the early TAC Choir — including Stephen, one of just 33 students in the first class.
Although he "went to Thomas Aquinas College kicking and screaming," Mr. Grimm admits, "once I got there I was in love with it." He has fond memories of campus life during those opening years, including singing at Masses, working in the kitchen with the College's first chef, Johnny Zenakis, and performing a skit with his peers in which they imitated all of the tutors. "A tradition at most parties in those early years was a marathon Virginia Reel with 20 or so couples," Dan Grimm remembers. "Stephen would embellish 'Turkey in the Straw' with passages of Mozart, Vivaldi, Beethoven, or whatever struck him at the time."
The presence of the Grimms during the College's formative years was invaluable. "It was providential that they were there from the beginning," says Dr. Thomas Kaiser ('75), a fellow member of the first class who now serves as dean of the New England campus. "I remember being at a Christmas party, and someone put some rock music on. Marya Grimm (Krestyn '76) had the nerve to go up and just take it off and put on some beautiful Handel. Some people were upset about it, but it really set the tone for the rest of the history of the school."
After college, Stephen wed Laura, and the couple would go on to welcome three children: Gabriel, Gregory,  and Elizabeth (Forrester '98). Meanwhile, he pursued studies in piano and opera at California State University, Northridge and Los Angeles, and soon began directing church choirs, most notably at Sts. Felicitas and Perpetua Parish in San Marino, where he served 22 years.
In addition to teaching music and leading various school choirs, Mr. Grimm was a member of the L.A. Master Chorale for over 30 years, the artistic director for Pasadena Pro Musica, and a former participant in the L.A. Opera. He has soloed in performances of Bach's St. Matthew's Passion, Vaughn William's Mass in G Minor, and Benjamin Britten's Rejoice in the Lamb; and he has sung in many movies, including Air Force One, Frozen, and Dracula.
Yet when he learned about the growing possibility of Thomas Aquinas College opening a second campus on the East Coast, Mr. Grimm offered to quit his longtime home in California so that the Grimm family could give TAC East what it first gave to TAC West nearly a half-century before. "Retiring from our respective jobs, Laura and I both felt ready for a new adventure in our life together," he reflects. "While many of my musical colleagues have not been able to sing and conduct, the New England campus has provided a haven from the Covid virus restrictions on worship and choral singing. Deo gratias!"
His role on campus extends far beyond that of choir director. Mr. Grimm conducts weekly choir rehearsals, directs a men's Schola Gregoriana, offers lessons in voice and piano, directs a student orchestra, and is a regular presence at campus events. "He's always showing up places," observes Paul Dinan ('22), a member of the student choir and occasional organist. "He comes to all kinds of dances, lectures, dinners in the dining hall with Mrs. Grimm. He's kind of like a father figure to us, and he brings a smile to our faces whenever we see him."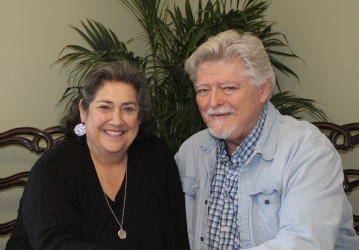 Laura and Stephen Grimm ('75)
"Thomas Aquinas College is one of the premiere liberal arts colleges in the country and the pride and joy of the Santa Barbara Pastoral Region."
– Most Rev. Robert E. Barron
Auxiliary Bishop of Los Angeles
NEWS FROM THE COLLEGE