Posted: August 9, 2017
Note: The following essay is adapted from comments made before the Thomas Aquinas College Board of Governors at its May 12, 2017, meeting.
By Emily Sanchez ('17)
I fell in love with Thomas Aquinas College in the fall of 2011. I grew up with many friends who are children of alumni, and I heard about TAC as "a small Catholic school where they read books." I thought, "I live in a small Catholic homeschooling community where we read books. I want something more when I go to college!" But my friends brought me to Alumni Day during my junior year of high school, and I loved the campus, the Chapel, the community.
As part of Alumni Day, we participated in a youth seminar in which we discussed a short story. I remember thinking, "I could go to a school where my classes are all like this?" I was sold. I went home that night and told my mother, "TAC was made for me!" She said, "Why don't you say you were made for TAC? That sounds more humble." But I knew God wanted me to come here.
Little did I know how hard I would find those classes to be. From Freshman Philosophy to Sophomore Science, Junior Math to Senior Seminar, I was challenged by the College's intensely rigorous curriculum. They don't spoon-feed us answers here, and that's good! We have to wrestle with questions in order to rest in the truth.
And the truth really is the end for which we strive. I have a sister who is a novice in a Carmelite cloistered convent in Lincoln, Nebraska, and she spends her days praying. She wrote to me, and she said, "Emily, you spend your days praying, too, because prayer is lifting up the mind and heart to God. Through your classes and studies, you're constantly lifting your mind up to the Truth, and the Truth is God."
I have definitely grown in my faith through the classes I have taken here at the College, and I have also grown in my faith through the Chapel. Living 45 seconds away from Our Lord is one of the greatest blessings of my life. Daily I have had the opportunity to kneel before Him and say, "Lord, let me do Thy will."
My friendship with God is reflected in my friendships with others in the community. In Junior Philosophy we studied the Ethics, and we learned about friendships of virtue, which occur when two people are living lives of virtue and genuinely desire the good of the other person. Seeing how many friendships of virtue I have here is a testament to the community.
One of the ways I have been blessed to be part of the community is through my Service Scholarship jobs. During Freshman and Sophomore Year I worked in the kitchen, which was fun and social. Then, Junior Year I was asked to work in Admissions as the office's visitor coordinator. This was awesome because daily I had the opportunity to fall in love with the College over and over again as I led tours and explained why we do what we do, how we do it, how it is unique, and why it is successful. Then, this past year I was asked to be a prefect, which was a challenge, but I enjoyed serving the College in this leadership position.
Thanks to the College I have had two opportunities to join the larger Catholic world this last year. Last summer I went to a conference called the GIVEN Forum that was put on by the Catholic Major Superiors of Women Religious. Then, over Christmas break — thanks to the generosity of Governor Steve Walsh — I and six other TAC students went to SEEK, a Catholic youth conference. It was wonderful to see so many other Catholic students striving for the truth, and to see how blessed we are by our deep intellectual formation here.
It is so important for us to take what we learn here and bring it to the world. With the state of our society and our low, low standard of morality, it would be hard to know how to have hope for the world and what we can do to make a difference. We asked this question in our second-to- last seminar last week, and our answer was this: We have to have hope, because the intellect always desires the good, and when presented with the truth, the intellect will strive for it.
So we must take truth to the world, but we have to do it with love. For it is only through love that people will listen. This will be my aim next year at Catholic Answers in San Diego, where I will work as the executive assistant to the president, Christopher Check. I am so excited to serve the Church in this way.
On behalf of my fellow students, thank you, members of the Board of Governors, for all the work you do for our school. We are so excited about the College's efforts to launch a New England campus and all the opportunities it could present for more students. I have been praying for you. Please pray for me. God bless.
Miss Sanchez is from La Mesa, California.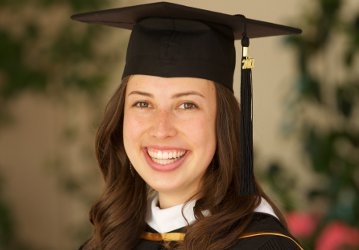 "I am deeply touched by the quality of the intellectual and spiritual formation that you offer. The study of philosophy should lead to a conviction that truth can be known, articulated, and defended. Your college shows that this is possible, and on a high level!"
– Rev. Wojciech Giertych, O.P.
Theologian of the Papal Household
CALENDAR
NEWS FROM THE COLLEGE